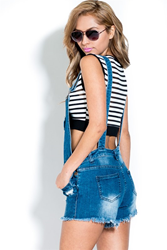 Midway City, CA (PRWEB) May 30, 2014
William Thackeray once said "Bravery never goes out of fashion." Not only does this quote grabs one's attention, but it is more of a way of life to many people.
Off The Closet, a global online lifestyle and fashion store for the vintage and urban trended girls, delivers all the must-have vintage clothing, shoes, and jewelry at prices that won't break the wallet.
Nour Rahhal, the CEO of Off The Closet, initially founded the company as a school research project. She applied her knowledge in Industrial Engineering to optimize the website in different aspects. While the company is merely few months old, it had shown tremendous success in visitors and hits.
Off The Closet is working on expanding by introducing and launching Urbauny, an online vintage and urban furniture and décor store. Urbauny will be introduced on OffTheCloset.com and will provide unique and exotic furniture pieces for the bedroom, bathroom, living room, and patio. Products will range anywhere from an urban inspired light lamp to Victorian splashed bedside table. The décor and furniture items are aimed at the highly trendy and fashion cautious consumer. Urbauny is scheduled to launch on June 25th of 2014. Keep posted for the launch of this successful start-up story!
Visit https://www.OffTheCloset.com today for a continuously updated collection of vintage and urban fashion styles.