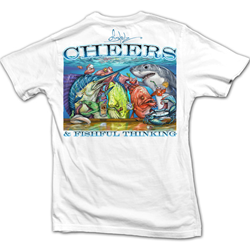 Ofishulz is about good times, laughs and a laid-back coastal lifestyle.
Miami, FL (PRWEB) February 10, 2015
Ofishulz Apparel Line partners with Sherry Manufacturing to launch a new series of designs at the Miami Boat Show, February 12 - 16, 2015. CEO of Sherry Manufacturing Scott Coltune is pleased to announce the joint partnership with the artist of the "Protect Wild Dolphins" Florida License Plate, Istvan "Steve" Diossy, founder of Diossy Brothers, LLC (d/b/a Ofishulz, pronounced: officials).
Complemented by Sherry Mfg.'s exceptional reputation and experience in the screen printing industry and online retail sales, OFISHULZ will be expanding rapidly and progressively. This joint partnership with Sherry Mfg. will jumpstart the OFISHULZ art designs and brand worldwide.
OFISHULZ was created several years ago by Steve Diossy, inspired by bar and reef hopping in Key West, FL. Later he was joined by his brother, Ambrus Diossy, and his best friends Tom Harrington and the late Scott Terry to help build the company. OFISHULZ focuses its designs using bright colors depicting various marine life in a way which invokes personality and character. According to Steve, "Ofishulz is about good times, laughs and a laid-back coastal lifestyle."
Many years ago, as a highly touted artist, Steve was commissioned by Harbor Branch Oceanographic Institute to create the "Protect Wild Dolphins" design, which quickly became Florida's best selling license plate. Following this success, Steve collaborated with world renowned artists Wyland and Guy Harvey to develop three more license plates for Harbor Branch and the state of Florida (Protect Florida Whales, Save Our Seas, & Aquaculture). It is the amazing success of these designs that ultimately inspired the OFISHULZ brand and its designs.
Sherry Mfg. (d/b/a Sherry Resortwear) is one of the nation's leading screen printers. The company is located in Miami, FL and houses a showroom, warehouse and state-of-the-art printing facilities in an all inclusive location easily accessible to the Miami International Airport. Sherry Mfg. produces for the top brands in the industry such as Universal Studios, Dicks Sporting Goods LegoLand Parks, Ron Jon Surf Shop and Bass Pro (World Wide Sportsman) Through a network of worldwide sales representatives, Sherry Mfg. Co. distributes to resort areas, theme parks and chain stores. After seventy years, the business has remained family owned and operated.
All Apparel that is sold by OFISHULZ comes with a 100 percent guarantee to ensure customers experience optimal satisfaction with the product. In addition, to having a Premium Ring Spun cotton tee we offer our new vapor tee. The new Vapor Tee provides UPF 30 sun protection, comfortable and breathable anti-static materials and anti-stain/anti-microbial properties. These shirts will not shrink or fade in the wash. Fabulously cool designs created by OFISHULZ are imprinted on this quality apparel via the sublimation technique, which vaporizes ink into the shirt's material to generate vividly colored, eye-catching graphics.
For more information about OFISHULZ and Sherry Manufacturing, visit http://ofishulz.com and http://www.sherrymfg.com.