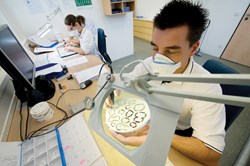 Ogden, UT (PRWEB) January 06, 2014
Most people think that it will take many visits to the oral surgeon or prosthodontist to complete dental implants. The reality is that now it can now be done in just one day thanks to medical advancements and a few talented Surgeons. Michael Affleck is Utah's leading prosthodontist and has performed many dental surgery procedures in just one day. This revolutionary technique is called "Teeth In A Day®".
Teeth In A Day® is a surgical dental process that makes it possible for a patient to have a complete smile through the use of dental implants, veneers or dental reconstruction. All of these options can be completed now in just one day. This medical improvement helps reduce procedure cost and speeds up recovery time.
Teeth In A Day® is a special technique that makes possible the placement of dental implants or replacement teeth in just one visit. Normally, the procedure will take months of oral surgery. Immediate total tooth replacement makes it possible for you to walk out after one visit with a new smile.
The Teeth In A Day® treatment is a state-of-the-art innovative procedure that provides patients permanent attached (fixed) teeth utilizing as few as four dental implants through dental surgery.
Contact:
Affleck Dental
maffleck2 (at) comcast (dot) net
801-782-5010