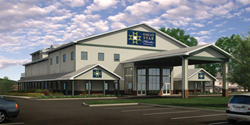 Ohio Star Theater was designed and built to be a world-class theater with an intimate feel...
Sugarcreek, Ohio (PRWEB) March 01, 2017
Dutchman Hospitality Group is pleased to announce construction of the new addition to their suite of entertainment and hospitality offerings, Ohio Star Theater, is near completion, and ready for the 2017 season. The expansive, state-of-the-art venue will feature even more of the family-friendly national acts and Broadway-caliber musical productions, the property is known for fielding.
As tickets for the first show of the season sold out over two months ago, the Ohio Star Theater management team is counting down the days until the venue opens its doors on April 1, 2017. Custom designed to provide an intimate entertainment experience, the main level of the theater will comfortably seat just over 400 people, with additional seating for another 100 in the balcony.  Additional bragging rights include a new, 2,400 square-foot stage, off-stage green rooms for talent, expanded restroom facilities, lounge areas, concessions, and a wrap-around porch on the building where guests may enjoy the property's unparalleled hospitality before and after the show.
Mike Palmer, president of Dutchman Hospitality Group, states, "This theater is going to provide our guests with an experience that will exceed their expectations. We have gone to great lengths to incorporate the best possible sound, lighting, and overall acoustical equipment available. This building was designed and built to be a world-class theater with an intimate feel - not a conference room or an event center. This is a state-of-the art theater."
Already recognized as Ohio's premier destination in Amish country for high-quality entertainment programming and hospitality, Ohio Star Theater will continue to build its highly successful track record of bringing Broadway-caliber shows to the stage with the premiere of "The Home Game." Produced by Blue Gate Musicals - the same creative team behind smash hits "The Confession" and "Mennonite Girls Can Cook" - The Home Game is a new musical adapted from the story by award-winning author Martha Bolton.
With musical preparation already underway for the May 9th premiere of The Home Game, staff and talent, alike, are marveling at the impeccable acoustics of the new facility. Susanna Cox, General Manager of Ohio Star Theater states, "The sound quality is such, you could hear a pin drop."
Visit Ohio Star Theater's website: OhioStarTheater.com for the full 2017 Show Schedule and ticketing information. For a backstage look into the venue's happenings, connect with Ohio Star Theater on the official facebook page: @OhioStarTheater. Guests are always welcome to visit the new venue located at 1357 Old Route 39 NE; Sugarcreek, Ohio, or call the theater box office at 855-344-7547 to reserve seats now.
Members of the press and bloggers with credentials may request additional information, interviews, and invitations to attend a show for review by contacting Ohio Star Theater's publicist, Vicki VanNatta via email: vickiv@dutchmanhospitality.com.
ABOUT OHIO STAR THEATER AND DUTCHMAN HOSPITALITY GROUP
Ohio Star Theater is part of Dutchman Hospitality Group. From small beginnings in 1969 in the rural Amish Country of Ohio, to its addition of the state-of-the-art Ohio Star Theater, Dutchman Hospitality Group remains a family-owned company comprised of six Amish Kitchen Cooking restaurants, five gift shops, three Carlisle Inns – with a fourth under construction – a food market and a wholesale food distribution service.
With Ohio locations in Sugarcreek, Walnut Creek, Berlin, Bellville, and Plain City, and Sarasota, Florida, Dutchman Hospitality Group is dedicated to providing its guests with an experience that celebrates the traditional foods, simple comforts and rural charm of the Midwestern Amish and Mennonite communities.
Learn more about Dutchman Hospitality Group and the Ohio Star Theater at http://www.dhgroup.com or by contacting them at 330-893-2926.
ABOUT "THE HOME GAME" AND BLUE GATE MUSICALS
Produced by Blue Gate Musicals, "The Home Game" is a new musical adapted from the story by award-winning author Martha Bolton. Specially developed for the musical stage to include all the hallmarks of Bolton's storytelling genius, it is a thoroughly enjoyable, Broadway-caliber spectacular for the entire family.
Blue Gate Musicals, LLC (BGM) was formed in 2010 to create relevant, meaningful, original and entertaining musicals. Founding Partner Mel Riegsecker and President and Dove-Award winning producer Dan Posthuma oversee the operations of BGM, which includes three hugely successful Broadway-style musicals, from Amish Country:  "The Confession," "Half-Stitched," and "Josiah for President."
Learn more about The Home Game and connect with the cast, crew, and creative team at http://www.TheHomeGameMusical.com.
Contact:
Vicki VanNatta
Publicist, Dutchman Hospitality Group
vickiv(at)dutchmanhospitality(dot)com