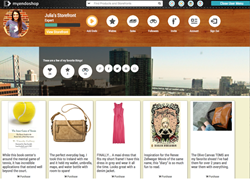 Users can take advantage of the benefits of affiliate marketing, all while sharing insightful product recommendations with their friends.
Dayton, OH (PRWEB) July 16, 2013
Two years ago, Russ Gottesman's sister-in-law came to him with a question: "Do you like your TV?" The question was simple, and after a brief conversation, she came to the conclusion that it would be perfect for her and proceeded to purchase it at the nearest big box retailer.
"I got to thinking," Gottesman said. "People recommend products all the time to each other, why shouldn't we receive commission for that valuable information?" And it was from this thought that MyEndoShop.com was born.
During their initial research, Gottesman and his team discovered that there was an entire industry dedicated to people earning money for recommending products and influencing purchases. The industry is affiliate marketing, and it is expected to become a $6.1 billion dollar industry by the year 2014, according to a recent Forbes Magazine article. But unless you are a blogger with a large online presence, the affiliate marketing industry is largely impenetrable to the general public.
With the help of MyEndoShop.com, anyone with internet access can enter the world of affiliate marketing and begin to earn money online.
On the platform, users can create and stock their own virtual storefronts, customizing their shops with inventory—products they use, love and endorse, or "endo". When a user purchases a product from a shop, the store owner makes anywhere from 3-5 percent sales commission.
The best part of MyEndoShop is that unlike traditional affiliate marketing, users don't need to be a mommy blogger, tech blogger, or food blogger with a huge online following to make it worth their while. MyEndoShop users are able to leverage their social networks, and easily share their endorsed products with their friends and family through social media buttons integrated into MyEndoShop's platform.
"Up until this point, affiliate marketing was an industry completely untapped by the everyday internet user," said Tim Hall, Lead Development Partner for MyEndoShop. "Now, with the introduction of MyEndoShop, users can take advantage of the benefits of affiliate marketing, all while sharing insightful product recommendations with their friends."
As Hall points out, MyEndoShop's goal is two-fold. Users can not only earn extra cash for their influenced purchases, but they can also help friends and family members find the best new products and vice versa. MyEndoShop is aspiring to create an online ecosystem where friends are recommending their favorite products to one another, and also earning cash back for their influential recommendations.
The company has already gained tremendous traction in the marketplace, signing up 30,329 retail partners through which users can earn commissions, including Amazon.com, Macy's, and Nordstrom, and MyEndoShop officially launched out of beta the summer of 2013.
About MyEndoShop:
MyEndoShop is a social media platform on which users create and stock their own virtual stores, customizing their storefront with inventory—products they know, love and endo(rse). Shop owners make sales commissions for items purchased based on their endo(rsement). The business model allows users and retailers to capitalize on influence marketing; while users make a sales commission on products they endo(rse) and sell, retailers leverage brand loyalty and word-of-mouth marketing and are spared the cost of a salesperson.
Russ Gottesman, founder of MyEndoShop, holds an MBA from DePaul University's Charles H. Kellstadt Graduate School of Business. He serves on the Advisory Council for the Crotty Center for Entrepreneurial Leadership at the University of Dayton and is an Adjunct Professor of Strategy and Entrepreneurship at DePaul University. Gottesman has been recognized as an entrepreneur and business leader; he is the winner of the 2011 Soin Award for Innovation, 2010 University of Dayton Business Plan Competition, and the 2008 DePaul New Venture Challenge. Russ and his family reside in Dayton, OH.