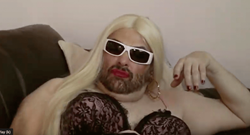 "I am living the way my transgender God intended me to be."
NEW YORK (PRWEB) May 06, 2019
Big Mama Capretta's new hit dance music single 'Then Came You' is currently #6 on the US Top 20 Show. Big Mama Capretta has church officials up in arms! By day, Capretta is none other than Father Anthony (aka Vincent Capretta) a proud practicing 57 years old renegade Catholic priest from Columbus, Ohio. By night, Big Mama Capretta is an outrageous and hilarious drag queen. The shocking official 'Then Came You' music video on YouTube exposes Capretta sneaking out of the church at the rising of the moon in a blonde wig, polka dotted mini skirt, fishnet thigh highs, pump heels and sunglasses to moonlight as a devilish 'lady of the night'. Capretta is seen promiscuously working the streets and prostituting himself in sleazy motel rooms seducing married men and intimately kissing a young inviting Hispanic male priest.
"Church officials need to look in their own backyards before pointing fingers!" shouts the openly gay Big Mama Capretta aka Father Anthony. "Amid rampant sex scandals, scrambling bishops are praying that I will be silenced. I send all my kisses to everyone buying, playing, and charting 'Then Came You'. I am living the way my transgender God intended me to be. Life is fun and gayer than a Judy Garland convention!"
Broadcast live from Hollywood, the US Top 20 Show is the world's #1 top 20 dance music countdown program airing weekly on over 500 radio stations around the globe and hosted by Grammy Award Winner Al Walser. The jolting electronic dance floor anthem is also a rising hit on the leading American dance music chart from Starfleet Digital Record Pool representing over 179,000 deejays and already a top charter in Europe and Oceana. The new hot track is available for purchase at Amazon, Google, and iTunes.
Some "journalists" who claim to have religious affiliations have had to retract fake and misleading statements criticizing Capretta upon discovering that he is a validly ordained and practicing Catholic priest listed on the official roster of the international Ecumenical Catholic Church of Christ headquartered at the Cathedral of Saint Anthony in Detroit. To the dismay of his detractors, Capretta is now one of the most famous male priests in world history according to Ranker.com in Los Angeles.
ABOUT CAPRETTA
Capretta began his music career at the age of seven studying music theory and classical guitar at the renown Cleveland Music School Settlement. Winning radio talent contests at the age of twelve led Capretta to vocal scholarship in the Opera Department of the prominent Cleveland Institute of Music. In addition to serving as lead tenor for the Cleveland Civic Light Opera for two seasons, Capretta has held several leading roles in professional and community theater. Capretta was featured at the New Music Seminar in New York City in 1986 in response to his first music video 'Fallin Again'. In 1987, Capretta hit the national Eurobeat charts in the United States on LSA Records with his covers of the disco classics 'I Will Survive' and 'Turn the Beat Around' and again in 1990 with 'Never Knew Love Like This Before'. Capretta hit the European dance charts in 1992 on Loading Bay Records with his rendition of the classic 'It's My Party' and is featured on the Best of Loading Bay High Energy Volume I. Topping the Playboy Cable Channel Hot Rock's chart in 1993 with his #1 steamy music video 'Puerto Rican Sex', Capretta is also known for his successful music video 'Stormy Weather' on ETV and RockAmerica in 1996. Capretta came out of the closet in 2009 as a drag queen Big Mama Capretta revealing the truth about her identity hitting the Billboard dance charts on Carrillo Records with his charting top 20 dance floor anthem 'Big Mama's House'. Capretta and other famous celebrities like Lady Gaga and Madonna made international headlines in 2009 with tributes to the late Michael Jackson. Adorning Jackson as "Saint Michael the musical Archangel who now sits at the right hand of the Father in Heaven," Capretta hit the Top 40 dance charts on Carrillo Records in 2009 with a dance rendition of 'The Lord's Prayer'. Capretta topped 'The Music Behind the Worst Album Covers Ever' in 2015 with his album 'Who's Lookin Back' on LSA Records and his album was featured on Jimmy Fallon's 'Do Not Play List' in 2015. A provoking documentary featuring Capretta in drag produced by Univision Television went viral in South America and the Caribbean in 2018 riling millions of viewers. Big Mama Capretta is currently signed to Starlove Records and represented by Sobel Promotions in New York City