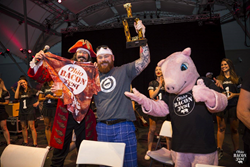 Downtown Columbus is growing, more people are moving to the area, and we hope to envelop their excitement for our third annual event. The Columbus Commons is the perfect venue to capture the energy of our city...we are expecting over 10,000 in attendance
Columbus, OH (PRWEB) April 12, 2017
The Ohio Bacon Festival, which took bacon from food to phenomenon, will take place once again at Columbus Commons in downtown Columbus on Friday, September 8, 2017, from 5 p.m. to 10:30 p.m.
"Prime Social Group and myself are dedicated to providing the best Bacon Fest experience ever for 2017," said founder Mike Gallicchio, who is also the creator of successful events including Park Street Fest and the Columbus Food Truck Festival. "Downtown Columbus is growing, more people are moving to the area, and we hope to envelop their excitement for our third annual event. The Columbus Commons is the perfect venue to capture the energy of our city...we are expecting over 10,000 in attendance plus more vendors than ever!"
Ohio Bacon Fest, co-presented by MikeGallicchioNow and Prime Social Group, serves up the trifecta of beloved regional restaurants and food trucks, live entertainment, and refreshing beverage options to the public for what has turned into a 10,000+ annually attended event. The family friendly event invites bacon lovers of all ages to celebrate at Columbus Commons; in fact, children 6 and under are admitted free.
"Bacon Fest is a very special event for our company, as it's grown to become an iconic, family-friendly event in Columbus," Zach Ruben, co-founder of Prime Social Group, said. "This year we are most eager to roll out an enhanced VIP experience with the 'Ultimate VIP Ticket'. This includes complimentary bacon samples from Bacon Fest vendors, free beer, wine and soft beverages, early entry, commemorative Ohio Bacon Fest tee shirt, access to Ultimate VIP lounge and an exclusive VIP Bacon Wristband!"
Official media partners of the bacon-based soiree are (614) Magazine and CD102.5. In addition to a slew of reputable vendors, there will be a bacon eating contest with celebrity judges. For details on how to enter the contest and for all your Ohio Bacon Fest updates, visit http://www.ohiolovesbacon.com and follow @ohiobaconfest on Facebook, Instagram and Twitter!
If interested in signing up to vend or play live music at the event, please visit http://www.ohiolovesbacon.com/vendors/. FAQ's about ticketing can be answered via http://www.primesocial.com/faq. GA & VIP Tickets are available now starting at $5.