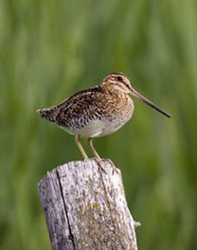 The sheer array of species is truly thrilling. One year, we spotted over 100 species in a single day!
Cleveland, OH (PRWEB) February 28, 2015
Travelers on Naturalist Journeys' Ohio Big Week Nature & Birding Tour will discover a region that is quickly being recognized as one of the best birdwatching destinations in North America. Northwest Ohio is home to 30,000 acres of wetlands and 15 Globally Important Bird Areas.
More than 325 species have been recorded in the region, including Neotropical songbirds, shorebirds, waders, and others. In 2012, more than 35 different warbler species were recorded during the Big Week event.
Travelers will also explore the Biggest Week in American Birding Festival, taking in exciting workshops, presentations, and even a "Best Bird Tattoo" contest. The festival also offers the chance to chase rare species spotted by others and optional field trips.
On Kelley's Island, travelers can observe ancient glacial grooves not taken over by plant life. At Black Swamp Bird Observatory, they witness research in action as experts band birds to help conservation efforts. Central to success of the tour is a steady flow of migration at Magee Marsh, where songbirds rest and refuel before the strenuous crossing of Lake Ontario.
"Ohio's Big Week is one of the few places that can offer this level of birding in the United States. The sheer array of species if truly thrilling. One year, we spotted over 100 species in a single day," says Naturalist Journeys CEO Peg Abbott.
The Ohio Big Week Nature & Birding Tour is led by Dan Donaldson, who has worked as a professional naturalist in Ohio for 15 years.
More about Naturalist Journeys' May 10 - 16, 2015 Ohio Big Week Nature & Birding Tour
This tour begins and ends at the Cleveland Ohio airport (CLE) and is open to a maximum of 12 participants.
About Naturalist Journeys
Naturalist Journeys is a nature-travel company based in Portal, Arizona. They strive to support eco-tourism throughout the U.S. and beyond, through small-group guided journeys, often in co-operation with local non-profit groups and communities.