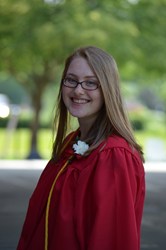 OHVA provided us a well-designed curriculum and fabulous teacher and administrative support while allowing us to individualize our children's education.
Maumee, OH (PRWEB) August 06, 2013
Most 15-year-olds spend their summer lazing in the sun and preparing for the pending celebration of receiving their driver's license. For Lauren Misel, however, this summer has been a time to relish the excitement of not one, but two graduations, whilst focusing on her fall enrollment at Miami University. This past June, the Newark, OH native graduated with honors from high school at Ohio Virtual Academy just one month after graduating with honors from Central Ohio Technical College with her associate degree in science.
Possessing both an associate degree and a high school diploma at an age where most teens have yet to receive either is an accomplishment Misel and her family credit in part to her decision to enroll at age five at Ohio Virtual Academy (OHVA), a free online public school powered by K12 Inc., the nation's leading provider of online learning programs for students in kindergarten through high school.
"Even at a very young age, Lauren's passion for learning was obvious, and as parents we were concerned her academic prowess would be stifled in a traditional classroom setting," said Joyce Misel, Lauren's mom. "We began exploring other education options and K12's curriculum was ultimately the perfect fit."
OHVA's flexible and individualized online learning approach is what first attracted the Misels to the virtual academy, as it provided Lauren the opportunity to be true to herself and achieve academic success to her fullest potential, without having to worry about being mocked or bullied by her peers for being different. The demanding coursework continued to challenge Lauren, and the freedom to create an individualized curriculum enabled her to learn at a more accelerated pace than what she would have been required to stick to at a traditional brick-and-mortar school.
The flexibility of the program also opened up Lauren's schedule to further pursue educational opportunities, including enrolling in post-secondary courses at Central Ohio Technical College. K12's structured curriculum equipped Lauren to be an independent learner and an accomplished writer – skills which served her exceedingly well once she started taking college-level courses.
"OHVA provided us a well-designed curriculum and fabulous teacher and administrative support while allowing us to individualize our children's education," said Joyce, who has seven children, five of whom are enrolled at OHVA. "On a larger scale, virtual schooling has benefited us as it has enabled us to spend more time together as a family and participate in outside interests without sacrificing a quality education for our kids."
A major appeal of OHVA, in addition to the personalized attention students receive, is the fact that tuition and materials are completely free.
This fall Misel will attend Miami University, where she will enter with junior status and a scholarship. She looks forward to applying the skills and experience she has gained as a student at OHVA to her future endeavors – both in school and beyond.
For more information about Ohio Virtual Academy and how to enroll, please visit: http://www.k12.com/ohva .
About Ohio Virtual Academy
Ohio Virtual Academy (OHVA) is a full-time, online public charter school serving students in grades K through 12. As part of the Ohio public school system, OHVA is tuition-free, giving parents and families the choice to access the award-winning curriculum and tools provided by K12 Inc., the nation's largest provider of proprietary curriculum and online education programs. For more information about OHVA, visit http://www.k12.com/ohva .