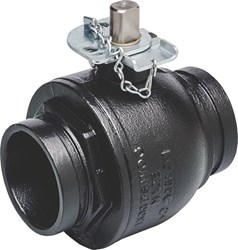 Easton, PA (PRWEB) September 30, 2013
Victaulic, the world's leading manufacturer of mechanical pipe-joining systems, introduces the Series 727 Ball Valve, a high-pressure, enhanced port, NACE-compliant valve with grooved ends for upstream oil applications. The Series 727 provides excellent flow characteristics and enables quick and easy installation and maintenance.
The internal design of the Series 727 Ball Valve has been streamlined to provide superior flow characteristics, offering improved throughput. Flow testing demonstrated up to one-third better flow than competitive standard port ball valves.
Featuring grooved ends, the Series 727 Ball Valve is joined using Victaulic couplings, enabling quicker and easier installation and maintenance than flanged valves. The Series 727 weighs one-third less than equivalent flanged valves, further easing handling and installation.
The two-piece valve features a floating ball for lower torque requirements, and is offered with manual handles with an integral tamper-resistant lock/seal. The Series 727 is designed for full open or shut-off service.
Series 727 valves can accommodate pressures of up to 1,500 psi (10,350 kPa) and are available in sizes ranging from 2 to 6 inches (50 to 150 millimeters). Common oilfield applications include wellhead hookups, flow lines, production headers, produced water lines, heater-treaters, separators, tank battery and salt water disposal, among others.
For more information about the Series 727 Ball Valve and other solutions for the upstream oil industry, please visit the Victaulic oil and gas piping systems page.
About Victaulic
Since 1919, Victaulic has been the world's leading producer of grooved mechanical couplings and pipe-joining systems. Used in the most demanding markets, Victaulic innovative piping technologies and services put people to work faster while increasing safety, ensuring reliability and maximizing efficiency. The company has 15 major manufacturing facilities, 28 branches worldwide and over 3,600 employees who speak 43 languages across the globe. With more than 900 active global patents, Victaulic solutions are at work in 115 countries across diverse business lines including oil and gas, chemical, mining, power generation, water and wastewater treatment, military and marine, as well as commercial building and fire protection. For more information visit http://www.victaulic.com and follow us on LinkedIn, Facebook, Twitter, and YouTube.
# # #