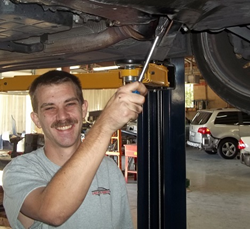 The Plano auto repair shop is proudly offering 50% OFF oil changes for Mothers
Plano, TX (PRWEB) May 08, 2015
The staff is looking forward to having a few local moms come by and take advantage of this special deal for oil and filter changes. Linear Automotive provides quality and affordable auto repair in Plano, TX for all makes and models. Services include auto repair, collision repair, factory scheduled maintenance, brake service, custom paint, classic car repair, paintless dent repair for hail damage, and much more.
Linear Automotive offers both regular oil and synthetic oil changes in Plano, Texas for all makes and models, both foreign and domestic, including BMW, Mercedes, Lexus, Infiniti, Audi, Acura, Jaguar, Volkswagen, Mini Cooper, Honda, Toyota, Nissan, and more. For more information visit LinearAutomotive.com or call 972-633-2201
Changing the oil and filter on a regular basis is very important to maintaining a vehicle properly and required by manufacturers as a warranty requirement on new vehicles. Over time making sure the oil is changed regularly extends the life of the engine and keeps everything running smoother.
Most people get an oil change every three months or every 3000 miles, but in newer cars some manufacturers actually allow more miles before an oil change is needed. Oil is important for reducing heat and friction in the motor. As the oil breaks down over time it is less effective which is why it needs to be changed. The oil filter helps to keep the oil clean and protect the motor.
All Mothers in the North Dallas area are encouraged and welcome to come visit Linear Automotive for the oil change service in Plano, TX. Moms will be pleased to find out that the shop provides the highest quality and affordable auto repair services for all makes and models. For more information visit LinearAutomotive.com or call 972-633-2201