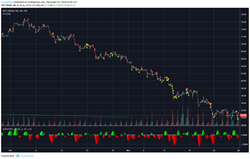 Only when the tide goes out do you discover who's been swimming naked. - Warren Buffet
VICTORIA, B.C. (PRWEB) December 03, 2018
Donald Trump cited lower oil prices as one of his reasons for "staying with Saudi Arabia" despite his own CIA's conclusions regarding the death of journalist Jamal Khashoggi. While Trump took credit for the current low prices for oil he also thanked Saudi Arabia and then called for even lower prices.
Without delving into the issues and suspicions related to arms sales and peace deals and emoluments and hotels and condo sales and business loans, the price of oil is a significant and immediate element that Trump is trying to manage and he is trying to leverage his relationship with the Crown Prince of Saudi Arabia to keep prices where he believes they help him most, politically speaking. Trump needs the Crown Prince to peddle influence for Trump with OPEC, which is making noises about cutting supply in order to return prices to more favorable levels.
Earlier this year OPEC had set a target price of $80 USD per barrel and they are widely expected to announce reductions in supply in 2019 at their upcoming conference December 6th. OPEC has even gone so far as to counsel President Trump as to the dangers of low oil prices for him politically, citing the large number of bankruptcies and job losses suffered by American oil companies during the price collapse of 2014, particularly in Republican strongholds like Texas and North Dakota.
This leaves President Trump with a dilemma. If he continues on his current mission to reduce Iranian production and exports to zero, and OPEC chooses to reduce production to compensate for the current, in OPEC's view, unfavorably low prices, the current surplus of oil on the market will be rapidly consumed and OPEC will be in the driver's seat going forward as even the U.S.'s increasing production capabilities could never make up for the shortfall.
This ego effect hasn't been lost on the hedge fund industry, where managers have been liquidating their oil positions in response to this uncertainty while taking positions in natural gas, which, btw, has surged 45% over the past month.
Renowned energy traders, like Mark Fisher, CEO of MBF Clearing Corp, believe this sell off by the fund managers has only served to accelerate the current falling price for oil but he believes that the bottom has been reached, or at least can be felt if you stand on tiptoe. His position is that oil is ready for a $10 a barrel bump back in the positive direction. His buying sign is "bad news with good price action."
Fund managers, as a result of their sell off, have taken an essentially neutral position on the outlook for oil prices for the first time in more than a year. If they are waiting for a similar sign and re-enter the market, the momentum back up could make the drop of the last month seem like nothing more than a pot hole.
The question is, "Which way will Trump's ego drive the news?"
About United Financial Commodities Group
United FCG is a leading edge, client focused, commodities trading consultancy firm committed to a superior client experience through professional, multifaceted and personalized portfolio management practices designed to utilize the latest market information for maximum upside potential while continually strategizing to minimize risk through the implementation of next generation trading software.
As a customer-centric consultancy group our prime directive with every client is to perpetuate their investment experience though this combination of insight and technology to provide an ongoing profitable market experience. Our experience has taught us that through an ongoing program of educational support, leading edge research and superior technology delivered with the understanding of each client's unique profile we can create an enjoyable, profitable experience through which our clients develop their own expertise leading to even greater success.
Want to learn more? Check out our videos, contact us or conduct your own research on options trading.
Use the following links to learn the basics of puts, calls and volatility.
Investopedia on puts and calls - Volatility