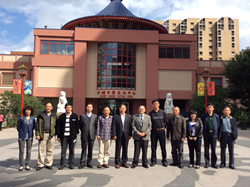 (PRWEB) September 27, 2014
In 2014 the United States Energy Information Administration (EIA) reported "China is the world's most populous country with the fastest-growing economy that has led it to be the largest energy consumer and producer in the world. Rapidly increasing energy demand, especially for liquid fuels, has made China extremely influential in world energy markets." As a result of the increased cooperation between American and Canadian oil and gas companies with state-owned and run counterparts in China, the need to familiarize Chinese partners with the manner in which the oil and gas industry operates in North American has become critical. This need to educate runs from top executives down to middle management.
On August 23 and 24, 2014, Ralph A. Cantafio of Cantafio Eddington P.C., taught a two-day class on United States and Canadian Oil and Gas Policy and Tax and Offshore Drilling to a class of Chinese Executives in Calgary, Alberta for Petromentor International Education Co., Ltd. of Beijing, China. Petromentor is one of the select few training providers for the three largest oil companies in China with American headquarters located in Houston, Texas. Petromentor provides oil and gas industry related courses for PetroChina ("CNPC"), China National Offshore Oil Corp ("CNOOC") and China Petroleum and Chemical Corporation ("Sinopec"), as well as other companies involved in the Oil and Gas industry.
Many students held Ph.D.'s and were hand-selected to travel from throughout China to attend. "Teaching this class was challenging," noted Ralph A. Cantafio of Cantafio Eddington P.C., "because everything had to be translated and all of the students had been born and raised in a state-run economy with little experience in a market economy." Still, Cantafio concluded: "While I believe my students learned a great deal about how the oil and gas industry operates in North America, I cannot even begin to itemize all that I learned from my students about China and Chinese culture." Cantafio looks forward to teaching for Petromentor again in the near future.
Media Contact:
Erica Adams
Cantafio Eddington
erica(at)cantafiolaw(dot)com
970.879.4567