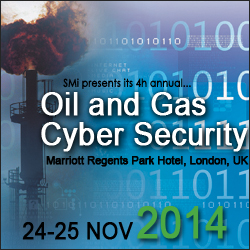 Embedding cyber security in the procurement of energy delivery systems is an important step for protecting these systems from cyber security threats. - Energy.gov, 2014
London, Southwark (PRWEB UK) 1 August 2014
Cyber security threats, whether malicious or unintentional, pose a serious and ongoing challenge for the energy sector. Embedding cyber security in the procurement of energy delivery systems is an important step for protecting these systems from cyber security threats.
(Source: Energy.gov, Cybersecurity Procurement Language for Energy Delivery, 2014)
This year's conference will feature an exclusive session led by the National Grid to provide insight into The Strategic Balance of Risk in the Energy Sector - the current state of the oil & gas threats, by Chief Information Security Officer & Head of Digital Risk, Graham Wright. Highlights from the presentation will include:

Managing and the balance of risk and responsibility between Governments and the Private Sector
Finding common threads to drive and industry view to enable properly informed national strategies, policy and regulation
This is just a snippet of what will be covered. Oil and Gas Cyber Security 2014 will provide the perfect platform for hearing about lessons learned in the field from oil and gas operators. Address the most pressing cyber security issues facing the oil and gas sector and learn new exploits within social engineering, with key presentations and case studies delivered by senior industry decision makers - including:
Centrica
Europol
CERT UK
Petrofac
Eni
Tullow Oil
Nexen Petroleum
Defence Corp
University of Oxford
plus many more...
For the full conference programme, please visit http://www.oilandgas-cybersecurity.co.uk.
For those who are interested, there is currently a £100 reduced rate for early bird bookings.
--END--
4th annual Oil and Gas Cyber Security
24-25 November, 2014
Marriott Regents Park Hotel, London, UK
Sponsored by: Bit9 + Carbon Black, Fox IT, LogRhythm and Waterfall Security Solutions
http://www.oilandgas-cybersecurity.co.uk
About SMi Group
Established since 1993, the SMi Group is a global event-production company that specializes in Business-to-Business Conferences, Workshops, Masterclasses and online Communities. We create and deliver events in the Defence, Security, Energy, Utilities, Finance and Pharmaceutical industries.
We pride ourselves on having access to the world's most forward thinking opinion leaders and visionaries, allowing us to bring our communities together to Learn, Engage, Share and Network. We hold events in over 30 major cities throughout the world including London, Paris and Singapore and to date have welcomed over 200,000 participants from 80 countries.
More information can be found at http://www.smi-online.co.uk.