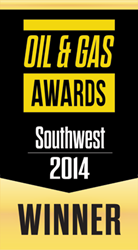 Landpoint is a clear go to firm in the region and across North America.
The Woodlands, TX (PRWEB) December 08, 2014
Land Surveying and Engineering firm Landpoint, LLC. Was recently named "Engineering Company of the Year" in the Southwest Oil and Gas Awards. The award follows several major recognitions that Landpoint received earlier this year, which includes being named the #3 Top Firm in ZweigWhite's 2014 Hot Firm list as well being placed on the Inc. 1000 list for 2014.
In naming Landpoint the Engineering Company of the Year, judges took note of how company personnel have performed in projects spanning pipeline and oilfield infrastructure work, as well as in distribution and the streamlining of projects. Judges were impressed with the company's efforts in 2013, when Landpoint surveyed more than 1,000 miles of pipeline. The company's professionals dedicated to oil and gas infrastructure projects also established locations for more than 700 new oil wells.
The judging panel commented that the company had "Good use of technology and consistent delivery on numerous projects. Already recognized numerous times, Landpoint is a clear go to firm in the region and across North America."
Company executives attended the Southwest Oil and Gas Awards gala on Oct. 23, 2014, in Dallas, Texas, where they received the award and consulted with other industry officials.
The Oil and Gas Awards recognize companies in the oil and gas fields for excellence in categories like health and safety, corporate and social responsibility, financial journal transaction of the year and general industry service, among others.
About Landpoint
Landpoint is an award winning firm that performs land surveying and engineering services for oil and gas, transportation, commercial land development, and residential real estate companies. The company also provides consulting, GIS mapping and laser scanning. The value added services and solutions offered by Landpoint are unmatched in the industry, allowing customers to realize significant time and cost savings.
To learn more about Landpoint's services in west Texas and around the country, visit http://www.landpoint.net.