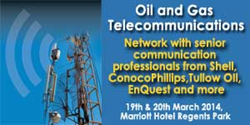 London (PRWEB UK) 30 December 2013
SMi's 7th annual Oil and Gas Telecommunicationsconference, taking place on 19th and 20th March in London, will focus on the challenges currently faced by IT professionals, CTOs, network engineers and integrators responsible for procuring and implementing communications systems in offshore and remote environments. The two-day conference programme will feature senior decision makers from ConocoPhillips, Shell, Tullow Oil, DESFA and EnQuest sharing valuable insight on how they have overcome various technology challenges – whether from satellite, wireless, fibre, etc., while also addressing the implementation and operation of any communications network - interoperability, security, cost containment, scalability.
Key presentations at SMi's 7th annual Oil and Gas Telecommunications conference include:

How to secure a demilitarised zone (DMZ) and provide a logical framework and design within an industrial automation control system network
Gordon Duncan, Security, Network and Telecoms Technical Authority, ConocoPhillips
Frontier communication challenges
Berry Mulder, Global Program Leader Wireless Technology for Process Facilities, Shell
Reducing the time it takes to collect and review seismic data from 2 weeks to 12 hours - technological innovation and the commercial benefits
Ian Theophilus, Global Infrastructure Manager, Tullow Oil
Management and technology in cyber security - Delivering results more cost effectively in combination with people management
Petros G. Theodorakis, ICT Director, Hellenic Gas Transmission System Operator (DESFA)
Use of microwave communications in "frontier" North Sea oil & gas operation
Alasdair Macleod, IT Project Manager, Knightsbridge Project, EnQuest
To view the full speaker line-up and conference programme, visit http://www.smi-online.co.uk/2014oilandgas-comms30.asp.
Plus, don't miss two conference workshops on:
A: Fundamentals of Satellite Communications Technology | Led by Tim Tozer, Senior Lecturer, University of York | 18th March 2014, London, UK
B: Managed Network Services – Delivering Value on the Global WAN | Led by Gary Steer, CTO, Hermes Datacomms | 21st March 2014, London, UK