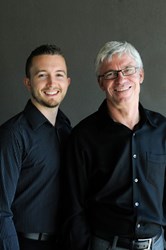 Our patients are always smiling at the results when they leave our office, and that's definitely rewarding.
Kelowna, British Columbia (PRWEB) November 23, 2013
Kelowna dentist Dr. Ian Leitch happened to be on stage representing the University of British Columbia (UBC) Alumni the day Evan Wiens graduated from dental school. Now the two have teamed up as Okanagan Dentistry, a Kelowna dental clinic offering all the latest cosmetic, restorative, and preventive dentistry services.
"I'm really excited to be here," says Evan, who grew up in Abbotsford and graduated from the UBC Faculty of Dentistry. Ian, a dentist who has been practicing in Kelowna since 1983, was looking for an ambitious young partner to help take care of his patients. "To join Ian is an amazing opportunity because he's an excellent mentor and he practices dentistry with great integrity."
Evan—who enjoys all aspects of dentistry, but focuses on oral surgery, root canal therapy, full mouth reconstruction and cosmetic dentistry including Invisalign—has only just begun his career as a dentist, but already he's made a mark among his peers. Evan was always on the dean's list during his Bachelor of Science studies at University of the Fraser Valley (UFV), and while earning top marks at UBC, he led volunteer dentistry projects in BC First Nations communities and Vancouver's Eastside.
"Helping people and giving to the community is kind of an addiction for me," says Evan. For all of his early achievements as a student, leader and volunteer, Evan recently received UFV's Young Distinguished Alumni Award. It hangs on a shelf next to awards from the American College of Dentists and the British Columbia Dental Association.
"From Evan's first days in dental school, it was obvious that he would be a special person who would give tirelessly to his profession and community," says Ian, a part time clinical faculty member and former graduate at the UBC Faculty of Dentistry who also helps administer and volunteers at the Gospel Mission Charity Dental Clinic in Kelowna. "I know he's going to excel here and fit in with our family of patients and staff."
Like Ian, Evan says it's a privilege to help people improve their lives by improving their oral health.
"Being a dentist and being able to help people feel happier really is an honour," says Evan. "Our patients are always smiling at the results when they leave our office, and that's definitely rewarding."
For more information, please contact:
Dr. Evan Wiens
Partner, Okanagan Dentistry
info[at]okanagandentistry.com
http://www.okanagandentistry.com/
1-250-762-3563