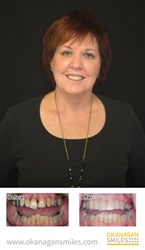 Every time June came in, she was smiling a little more, a little more confident.
Kelowna, British Columbia (PRWEB) December 04, 2013
When June Swenson first met Kelowna dentist Dr. Jonathan Visscher, she was so embarrassed of her teeth, she covered her mouth with her hand even when she spoke. Six months after starting her treatment at Okanagan Smiles as part of the Sensei-tional Makeover contest, and Swenson is smiling for the first time in years.
"Now she's outgoing and smiling and I think she has a new perspective on life," says Visscher, who worked on Swenson's smile over a six-month period while other fitness, skin care, hair and clothing professionals helped complete her makeover. "It's really rewarding as a clinician to help a person feel more confident."
Swenson, a 67-year-old grandmother from West Kelowna, and Ginette Wheeler, a 40-year-old mom and seniors care home worker, were selected last spring to participate in the makeover, presented by SenSei Laser and Vein Rejuvenation and featured in Icon Magazine. Since March, Swenson and Wheeler have received thousands of dollars of products and services, including dental work at our Kelowna dental centre.
In the before photo of her mouth, Swenson's teeth are yellow, black and rotting. "I didn't smile anymore because my teeth were so bad," Swenson told the Kelowna Capital News.
Swenson's teeth needed a total makeover. In fact, Visscher thought she might need dentures, but he was determined to make-over Swenson's smile. To address gum disease, discolouration and spacing issues, Visscher provided professional cleanings, crown and bridge work and teeth whitening services.
Today, Swenson's smile is bright and healthy. With a full set of straight, pearly whites, she has plenty of reasons to smile these days. "It's been a full 360 degree makeover," says Swenson. "It's not just the outside, it's inside."
For Visscher, who regularly leaves his Kelowna dental clinic to provide dental care in third-world countries, the makeovers gave him reason to smile too.
"Every time June came in, she was smiling a little more, a little more confident," says Visscher. "Getting to know her and Ginette, and giving them the smiles they've always wanted was a great experience for us as well."
For more information, please contact:
Dr. Jonathan Visscher
Partner, Okanagan Smiles
hello(at)okanagansmiles(dot)com
1-250-763-3338
http://www.okanagansmiles.com/