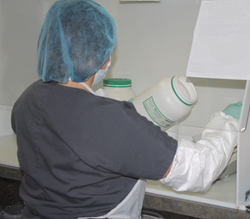 Safety is a huge priority for us and stays at the forefront of our minds with each patient we help.
Tulsa, Oklahoma (PRWEB) May 07, 2014
In the wake of outbreaks nationwide linking tainted medications to compounding pharmacies, OK Compounding, a leading compounding pharmacy in Oklahoma, has launched a campaign to demonstrate the extreme care it takes in providing safe medications and innovative compounding techniques.
Jocelyn Anstine, Chief Pharmacist of OK Compounding, says she believes that it is imperative for the public to know how safe compounding truly is and for professionals to highlight their superior standards when it comes to better serving their patients.
"Modern pharmacy compounding is safe and absolutely critical," said Anstine. "I believe there are a few bad apples out there, but they are the rare exceptions. Those of us who truly care have the responsibility of highlighting our safe ingredients and equipment, as well as our practice of exceeding industry standards."
Oklahoma has some of the strictest laws in the nation when it comes to compounding and is one of three states requiring adherence to guidelines written by the U.S. Pharmacopeial Convention, a group that develops medical purity standards used around the world. Anstine says OK Compounding follows these standards to a tee and backs it up with a commitment to broad based health and safety procedures, along with an investment in equipment that makes compounding an absolutely safe process for customers.
"Innovative techniques, state-of-the-art facilities and ingredients—these are the things we care deeply about," said Anstine. "We take great pride in having only the best mill equipment available and have even received Dynalab's prestigious CQI stamp of approval in regards to our product quality. Safety is a huge priority for us and stays at the forefront of our minds with each patient we help."
Christopher Parks, the managing member of OK Compounding pharmacy, says he keeps constant vigil on the cleanliness and maintenance of all pharmacy areas and supplies and that OK Compounding goes a step beyond to ensure purity of its product: "Many pharmacies have an after-hours cleaning crew, or perhaps a once a week cleaning. We have taken the extra step of hiring a full time employee to mop the floors daily, clean all work areas, remove waste, and keep the area spotless every day, all day."
Once considered an old-fashioned technique for providing medications, it has experienced a huge resurgence in recent years, driven by the rise of out-of-hospital surgical care and the high costs and shortages of drugs. Today, nearly every medical provider --from hospitals and doctors to hospices and clinics-- now gets at least a portion of its drugs from nationwide compounding pharmacies.
"Bottom-line is compounding is meeting needs that the pharmaceutical industry just can't meet," said Anstine. "That's why we're here. We're safe and effective, and we deliver access to quality individualized medications that help make patients better."
About OK Compounding
Founded in 2013, OK Compounding has grown from a local community pharmacy in Skiatook to become one of the largest compounding pharmacies in Oklahoma, serving thousands throughout the US. Christopher Parks oversees the staff, office areas, and all non pharmacy operations. The company is dedicated to improving lives through the art and science of pharmaceutical compounding and can compound medications for a wide range of patient needs, including chronic pain, wound care, migraine treatment, peripheral artery disease, plantar fasciitis, psoriasis, gout, and sports medicine. OK Compounding is a CQI (Continuous Quality Improvement) Center of Excellence and is the only pharmacy in the state of Oklahoma that holds that certification. For more information, visit http://www.okcompounding.com.