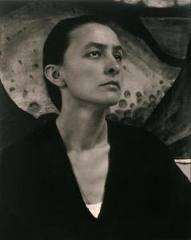 Says director Janet Davidson, "I am so pleased to be working at this new beautiful gallery for the first time. The letters are the perfect blend of heart, soul, education."
Santa Fe, New Mexico (PRWEB) October 08, 2014
After a successful run at the O'Keeffe Museum last December, For Giving Theater and director Janet Davidson will remount the famed Lake George letters between Georgia O'Keeffe and Alfred Stieglitz at Sorrel Sky Gallery in Santa Fe with a headline cast. Debrianna Mansini will reprise her role as O'Keeffe, JD Garfield will read the letters of Stieglitz and Emmy Award winner Kirk Ellis will read the narration. The letters give deep insight into their relationship, their art and the world in which they lived. This selection of letters is compiled by Sarah Greenough, author of "My Faraway One, Selected Letters of Georgia O'Keeffe and Alfred Stieglitz: Volume One, 1915-1933." Says director Davidson, "I am so pleased to be working at this new beautiful gallery for the first time. The letters are the perfect blend of heart, soul, education."
This special evening is part of Art Matters|Santa Fe sponsored by the Santa Fe Gallery Association, whose members create special exhibitions that inspire unique discussion, encourage participation, and promote involvement in the arts, whether at galleries or Museums. While Sorrel Sky Gallery is relatively new to Santa Fe, it has emerged on the art scene with a big splash, so its not unusual that it will continue down that road, providing Art Matters with more than a panel discussion. For Giving has teamed up with Sorrel Sky Gallery, crossing art forms- visual and performing- presenting an evening of the letters between two great artists, O'Keeffe and Stieglitz.
For Giving has a long history with performing successfully in avante-garde spaces, like galleries, over the last year and half. The O'Keeffe - Stieglitz letters are another in a long line of highly acclaimed readings. This time, the cast includes Emmy Award winner Kirk Ellis, Debrianna Mansini, who was cast as O'Keeffe in the upcoming PBS film Awakening In Taos, and JD Garfield, a well known working actor.
ArtMatters|Santa Fe takes place four times a year. This month the program is titled Unique Exhibitions and Critical Discussions occurs October 17 - 26, 2014. The Lake George correspondence of O'Keeffe and Stieglitz from 1918 through the mid-1930s performance in Sorrel Sky Gallery, located at 125 W. Palace Ave., on October 25th at 7 pm. Seats are limited and there is no charge to attend. Tickets can be reserved at Eventbrite (O'Keeffe Stieglitz Letters) http://www.eventbrite.com/e/okeeffe-stieglitz-letters-tickets-13465540795
Debrianna Mansini (represented by O Agency) is an actress who combines her talent with activism. She is deeply concerned with using the voice of her craft to shed light on women and social justice issues. Her NY roots and training live with her in New Mexico, her enchanted home base, along with her husband, accomplished artist David Forlano.