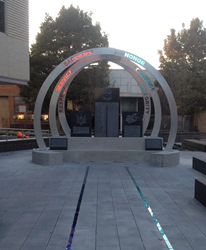 It is our hope this public art installation will not only honor the fallen but be an enduring contribution to the Oklahoma Police Department and to the Oklahoma community at large. -Gordon Huether, Artist
Oklahoma City, Oklahoma (PRWEB) November 24, 2015
The installation has been seamlessly integrated with the existing memorial monuments, which are the focal point of this new installation. The installation is integrated into the hardscape and is intended as a gathering place to commemorate fallen officers and their families, friends and colleagues. The installation of the sculpture was completed on Saturday, 11/14/2015 by Huether's team.
Huether designed the Memorial Plaza in a logical and practical manner in order to support the annual memorial event held at the Police Headquarters, as well as the day-to-day use and enjoyment of the space by officers and citizens throughout the rest of the year.
The sense of occasion and meaning that is at the heart of the annual memorial event - the procession of bagpipers, the Honor Guard's raising of the flag, the placement of flowers by surviving family members, the rider-less horse, the helicopter fly over and the 21 gun salute – are meant to be fully reinforced by the beauty, serenity and order of the Memorial artwork and Plaza design. Huether's design supports the passage of people through the site as well as provides space and seating for viewers and mourners.
The $207,500 public art project is funded through Oklahoma City's 1% for Art Ordinance. The installation is made of aluminum and dichroic glass, is set on a round 18-foot diameter concrete pedestal-like foundation, and is approximately 12 foot tall, measured from the base of the pedestal.
The memorial sculpture entitled 'In Honor of the Fallen' by Gordon Huether of the new 88,625 square-foot Oklahoma City Police Headquarters building which opened last month.
Gordon Huether has mastered the challenge of creating art in a multitude of environments and mediums. The scale of his work ranges from large architectural installations for public commissions to small intimate works of art for private collections and residences.
Since founding Gordon Huether Studio in Napa, California in 1987, Huether has worked extensively with glass on a large scale and has also created works incorporating salvaged materials, bronze, aluminum, steel, light, water and neon. All work is fabricated at Gordon Huether Studio by artisans who are internationally recognized for their creativity, technical ability and craftsmanship.
Huether's talent for intuitively reacting to the materials and the space they occupy, whether indoors or out, has led to the successful completion of over 60 public art projects and more than 160 private art commissions.
In 2009, Huether was the recipient of several awards, including the Americans for the Arts Public Art Network (PAN) Best Public Artwork in the US Award for the "Gotta Go" art installation at the Jacksonville International Airport.
For more information, please visit http://www.gordonhuether.com.