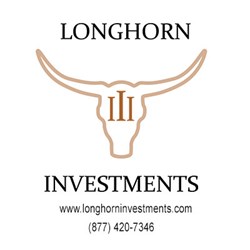 Dallas neighbors the Oklahoma border so we have many clients and partners who have been requesting that we start funding Oklahoma hard money loans for a long time now
Dallas, TX (PRWEB) January 31, 2014
The approval of funding Oklahoma hard money loans has been in the works a long time. The state of Oklahoma has been strengthened since the recession by the Oil & Gas, Aerospace and other industries that have created job growth and population growth. Two very big economic factors that affect a real estate market. Those two, along with other factors, make the Oklahoma real estate market look very attractive to real estate investors and Longhorn Investments in the near and long term.
"Dallas neighbors the Oklahoma border so we have many clients and partners who have been requesting that we start funding Oklahoma hard money loans for a long time now," said Michael Hoffman, Principal & President of Longhorn III Investments, LLC. "We are very studious when looking at a new market. We don't just jump right in. We want to make sure it makes sense for our company, our borrowers and our investors. But once we make a decision we stand by it. We are confident and very excited to see what we are going to be able accomplish in real estate markets like Oklahoma City and Tulsa with our hard money loan products. "
Hard money lenders have varying philosophies when it comes to their borrowers. Longhorn III Investments, LLC describes themselves as somewhat of a partner in the real estate transaction.
"Most money on any given deal is the lender's money. When we do a loan we want our borrowers to succeed and then come back and do it again. Our foreclosure rate is less than ½ of one percent due to our focus on making sure our borrowers are set up properly from the outset", stated Michael Hoffman. "Additionally, we have a title company and law firm that allows us to be a unique Texas hard money lender, Missouri hard money lender and Oklahoma hard money lender. We are a one stop shop for real estate investing services which makes us a highly qualified partner that most other companies can't compete against."
"Longhorn Investments has been able to build a great reputation because we are not a loan to own hard money lender like some of our competition," stated Ryan Kimura, VP of Sales & Business Development at Longhorn III Investments, LLC. "We are your lending partner. We underwrite our loans by viewing ourselves as your partner on the transaction. The better our partners do, the better Longhorn does. Longhorn has a wide range of services to offer real estate investors other than just hard money loans. We are confident that Oklahoma real estate investors will see the value that we can provide them."
ABOUT LONGHORN III INVESTMENTS, LLC
Longhorn III Investments, LLC corporate office is located at 17950 Preston Road, Suite 230 Dallas, Texas 75252. They can be found only at http://www.longhorninvestments.com. Longhorn III Investments currently offers Texas hard money loans, Missouri hard money loans, Oklahoma hard money loans and has access to almost $25MM in capital to lend from its sister private equity fund, Trident Realty Investments.