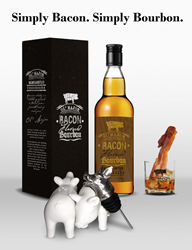 Orlando, Florida (PRWEB) April 13, 2015
Nearly two years ago, a website went live for a unique brand of America's favorite type of alcohol – Bourbon. It was flavored with bacon, and some say it broke the internet. Thousands of people flooded the Ol' Major Bacon Bourbon website, and the company's server went down. Ever since, they have been hard at work trying to get this liquid into American's stomachs. They found the perfect distillery, sourced the most tasty bacon, and united this country's greatest assets.
Today, Ol' Major is just months from making its way onto shelves in the United States. Their presence is known by many who are eagerly anticipating the launch, so the brand's owners have brought their coveted booze to America's biggest event scheduled for spirits wholesalers, the WSWA (Wine & Spirits Wholesalers of America).
With their arrival at this amazing event, Ol' Major showcases a completely redesigned label and an improved flavor profile. The label features a uniquely rustic, yet modern style printed directly onto real wood, which has a distinct texture and appearance. The liquid – a highly guarded secret – is the only brand of bottled Bourbon to contain real American bacon.
"We came up with it over a 'boozy brunch,' and it's become a staple among my friends and family," says one of the co-founders of the brand.
This spectacular design and taste can be experienced by any member or guest of the WSWA in Hospitality Suite 22019 between Monday April 13 and Wednesday April 15, 2015.