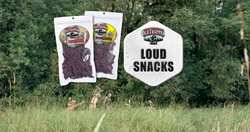 Taking another step to support our retail and distribution partners with TV commercials just made perfect sense to us.
Forest Grove, Oregon (PRWEB) December 03, 2015
Old Trapper Smoked Products, makers of the popular Old Trapper Beef Jerky, has launched a major national television advertising campaign, opening a new channel in their ongoing marketing efforts. The TV spots featuring their mascot, The Old Trapper, and his 'beefs' with the most ridiculous parts of our modern lives, will air on cable networks. The campaign began before Thanksgiving weekend and will continue through 2016. The company has seen sales skyrocket over the last several years, and this new strategy is aimed at expanding brand awareness throughout the country.
Backed by Digital
Old Trapper's new television spots will be backed by an integrated digital marketing strategy on their social channels, including Facebook, Twitter, Instagram and YouTube. An aggressive online campaign will also seek to capitalize on the brand's new audience.
Evolving Marketing Efforts
Television advertising is the next logical step for a company that's spent the last two years modernizing nearly every aspect of its customer-facing brand identity, including the logo, brand messaging, packaging, point-of-sale displays, shipping boxes, and website.
During that same time, Old Trapper also commissioned a focused content marketing campaign to establish and grow their brand identity on social media. Growth on those channels has been dramatic. In one year, Old Trapper achieved the following results from this content and social media effort:
2,113% increase in earned social media fans
1,400% increase in social media engagement
"We're excited to announce this next level of commitment to our brand, the meat snack industry, and to our retail partners," says Vice President of Sales Hans Evenson. "We have experienced tremendous growth over the last several years and taking another step to support our retail and distribution partners with TV commercials just made perfect sense to us."
About Old Trapper Smoked Products
Old Trapper Smoked Products is a brand based on tradition. With more than 45 years of business, the beef jerky and smoked meats snack company sells in all 50 states and its snacks are made in the U.S.A. in Forest Grove, Oregon.