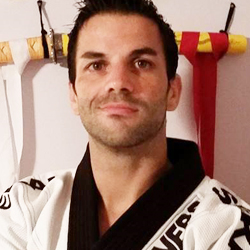 Tim will be able to provide our OSL online community with a lot of information about how to prepare the body and mind for competitive events
Los Angeles, CA (PRWEB) February 13, 2015
Old School Labs™, the celebrated startup whose best-selling sports supplements reflect the values of the "Golden Era" of bodybuilding, has signed martial arts champion Tim ("Timbo") Harrell to represent its brand. The martial arts expert will join the company's team of brand ambassadors, who, like other enthusiasts, have discovered Old School's all-natural products and been amazed by their effectiveness.
Harrell is a Brazilian Jiu Jitsu competitor, a NAGA and US Grappling Gold Medalist, and the holder of double black belts in Taekwondo and Hapkido. He served his country as part of the Army combatants on deployment in Afghanistan and is an All Army/All Armed Forces Champion and an OEF veteran.
"I discovered the company through its Facebook page," says Harrell, who was looking for a supplement that would help with strength and endurance without adding unnecessary bulk. "I wound up ordering a month's supply of Old School's products and followed the directions. Within days, I was noticing a difference in my energy level and recovery rate, and I realized that this stuff actually works!"
Harrell was so happy with the results that he wrote a long, glowing review on Amazon and a letter to the company, which brought him to the attention of its management and Old School Labs founder and CEO Tarek Sidani.
"We're incredibly pleased to have Timbo on our team," says Sidani. "He'll be able to provide our OSL online community with a lot of information about how to prepare the body and mind for competitive events. He knows the ins and outs of adding muscle to join a higher weight class, and maintaining strength while losing weight to join a lower one. Tim's discipline, experience, and expert advice will be extremely valuable for our supporters."
Tim's review can be read on Amazon at http://bit.ly/TimReview