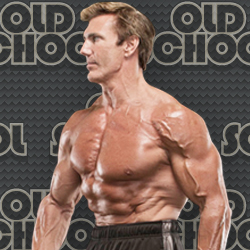 With John on board, we have another voice to help spread the gospel of the Golden Era.
Los Angeles, California (PRWEB) October 06, 2015
Old School Labs™, creator of the Vintage line of all-natural bodybuilding sports supplements, has added expert natural bodybuilder John Hansen to its growing team of brand ambassadors. Known as one of the best natural bodybuilders in the world, Hansen is a three-time Natural Mr. Universe winner, winner of the first Mr. Natural Olympia contest in 1998, and author of the book Natural Bodybuilding (Human Kinetics, 2005). He has conducted seminars on natural bodybuilding, training, nutrition, and general fitness all over the world and promotes the NPC Natural Suncoast Classic each year in Tampa, Florida.
"It's pretty much a match made in heaven," says Old School Labs founder and CEO Tarek Sidani of his company's signing of Hansen. "Our very first brand ambassador was legendary all-natural bodybuilder Mario da Silva and John is totally within that tradition. He's incredibly knowledgeable about the Golden Era of bodybuilding, and he'll be contributing to the community by passing down his fitness and nutrition knowledge through posts, articles and videos."
Hansen couldn't be happier about the new gig. "When Old School Labs first contacted me about becoming an ambassador, I was flattered and of course very enthusiastic," he says. "I've been promoting natural bodybuilding through articles, seminars, competitive events, books and videos for almost 20 years, and working with OSL is a natural continuation of my work. I'm very proud to represent their products and unique brand values."
With more than half a dozen multigenerational ambassadors helping to promote their brand, as well as exciting new products on the horizon, Old School Labs is looking forward to another great year. "Classic techniques and a natural lifestyle will always be the healthiest and most effective ways to practice bodybuilding," says Sidani. "With John on board, we have another voice to help spread the gospel of the Golden Era."
About Old School Labs™:
Old School Labs™ is the maker of premium supplements that carry on the fitness philosophy of the "Golden Era" of bodybuilding. Old School Labs™ products do not hide behind proprietary blends, contain no artificial sweeteners or artificial flavors, and are manufactured using only high-quality ingredients. Old School Labs™ products include Vintage Burn™, a fat-burner designed to help preserve muscle while eliminating fat, Vintage Build™, a 3-in-1 muscle-builder, and Vintage Blast™, the world's first two-stage pre-workout. Old School Labs™ products have been featured in prominent publications including L.A. Confidential Magazine and Haute Living Magazine.