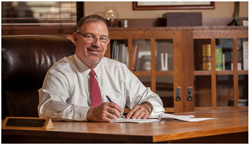 The appeals council denial may not be the end of the claim, and representatives should seek a Social Security Federal Court attorney to evaluate the claim for Federal Court.
Orlando, FL (PRWEB) September 15, 2016
If a client receives a denial at their Social Security disability hearing, before evaluating whether a case should be taken to an appeals council, representatives should know a request for review must be filed within sixty days of the date they receive the decision from the administrative law judge (ALJ). "Social Security assumes that you receive the decision within five days of the date on the decision, so you have exactly sixty-five days to file your request for review," said Howard Olinsky, founder and managing partner of Olinsky Law Group. "The appeals council will not accept late filings absent good cause."
For attorneys whose clients receive a denial at their Social Security disability hearing, Olinsky lists the following three tips:
No. 1: Procedural status. The claimant's last date insured for disability benefits should always be considered in deciding whether to appeal. "Before deciding that a new application is the best course, be sure that the claimant is eligible to reapply," said Olinsky. "Specifically, if the claim was Title II Disability Insurance Benefits, eligibility depends on insurance status. Therefore, if the claimant's insured status expired prior to the ALJ's hearing decision, the only way to preserve the claim and pursue benefits is with an appeal. If the claimant filed a Title XVI Supplemental Security Income claim and remains financially eligible for benefits, a consideration of other factors may reveal he or she has a better chance of obtaining disability benefits through a subsequent application rather than an appeal. Therefore, representatives must carefully review numerous factors including the medical evidence and the type of claim in deciding whether a hearing loss should be appealed."
No. 2: Medical evidence. The next step after a hearing denial is often to appeal. "This is especially true in cases with a fully developed medical record containing evidence favorable to a finding of disability, and also true when the ALJ jumped the gun and issued a decision despite outstanding material evidence," added Olinsky. "The ALJ's errors in weighing the evidence or deciding the case without a fully developed record are strong arguments that the case should be remanded for further proceedings."
No. 3: Case circumstances. Before deciding to appeal, a representative should carefully note the circumstances of the case due to the realities of the Appeals Council process. The Appeals Council denies a substantial majority of the Requests for Review it receives; in the year 2015, only 13.6% of appeals were remanded to a judge for further review. During this time, a claimant is prevented from filing a new application for disability benefits, because an individual may only have one claim pending with the administration at a time. Therefore, a claimant may be better served by filing a new application if they suffer new or worsening medical conditions, rather than pursuing a case to the Appeals Council, which has an average case processing time of 374 days.
"A claim need not end with an unfavorable decision following a hearing, but there are important factors to consider in determining whether a claimant should appeal the hearing denial or file a new application," concluded Olinsky. "Oftentimes, even the appeals council denial may not be the end of the claim, and representatives should seek a Social Security Federal Court attorney to evaluate the claim for Federal Court."
For more information about Social Security disability hearing denials, please visit http://www.windisability.com/so-your-client-received-a-denial-at-their-social-security-disability-hearing-whats-next-maybe-another-appeal/.
About Olinsky Law Group
Olinsky Law Group, whose practice is limited to Disability Law, has thirty years' experience with client-first representation. Olinsky Law Group is a nationally recognized Law Firm representing hundreds of Social Security claimants in Federal Court each year. The firm has offices in Orlando, FL, and Syracuse, NY. For more information, please call 1-888-WIN-SSDI, or visit http://www.windisability.com.
About the NALA™
The NALA offers small and medium-sized businesses effective ways to reach customers through new media. As a single-agency source, the NALA helps businesses flourish in their local community. The NALA's mission is to promote a business' relevant and newsworthy events and achievements, both online and through traditional media. For media inquiries, please call 805.650.6121, ext. 361.