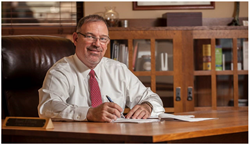 This process can take years; meanwhile, disabled claimants struggle just to stay alive as they cannot work and therefore have little or no ability to pay their bills.
Orlando, FL (PRWEB) May 10, 2016
Howard Olinsky, founder and managing partner of Olinsky Law Group, focuses solely on Disability Law, and has a thorough understanding of the Social Security Disability process, "which can frustrate disabled claimants and their representatives as they await a final decision on their application for benefits," said Olinsky. "This process can take years; meanwhile, disabled claimants struggle just to stay alive as they cannot work and therefore have little or no ability to pay their bills."
"Even after a hearing," adds Olinsky, "a claimant still has to wait three to five months to get a decision, and if that decision is favorable, another two months to start receiving payments. Therefore, speeding up the process is pivotal to claimants who have no other means of financial support or who are experiencing life-threatening health crises."
Because of these unfortunate wait times, Olinsky shares the top three ways representatives can expedite the process for their clients:
No. 1: Have a client-first mentality. "This means being aware of the claimant's circumstances throughout representation," said Olinsky. "A client-first mentality starts with properly training staff members and representatives. Although time consuming, staff members and representatives need training regarding the methods of expediting a case, which includes dire need, compassionate allowances, terminal illnesses (TERI), on-the-record requests, military casualty/wounded warriors, and potentially violent (homicidal/suicidal) claimants."
No. 2: Request updated information. Updated information should be requested regarding the current status of a claimant's financial and health situation. Staff members should also request eviction notices, foreclosure documentation, utility shut-off notices, the last three months of bank statements, proof of income, letters from homeless shelters, and documentation relating to health-care denials due to inability to pay. "This will help determine dire-need situations and provide documentation to support expediting the claim," said Olinsky.
No. 3: Be aware of impairments. For very serious health situations, Olinsky stresses staff members be aware of impairments and diagnoses that fall under the TERI and compassionate allowance lists. Once a TERI or compassionate allowance case is identified, representatives should confirm treatment information and obtain proper documentation of the impairment and the required diagnostic documents. "Representatives should also obtain, whenever possible, a statement from a treating source regarding the impairment," said Olinsky. "This will help to prove TERI, compassionate allowance, and cases that can be granted on-the-record. Once trained staff and representatives are aware of these expediting situations, proper procedures must also be in place. A thorough intake questionnaire is extremely important."
"These practices will allow representatives and their staff to quickly flag cases that should be expedited, or that could be granted on-the-record," said Olinsky. "This means shortening an already exhausting wait time for numerous claimants, which can literally mean the difference between life and death."
About Olinsky Law Group
Olinsky Law Group, whose practice is limited to Disability Law, has thirty years' experience with client-first representation. Olinsky Law Group is a nationally recognized expert representing hundreds of Social Security claimants in Federal Court each year. The firm has offices in Orlando, FL, and Syracuse, NY. For more information, please call 1-888-WIN-SSDI, or visit http://www.windisability.com.
About the NALA™
The NALA offers small and medium-sized businesses effective ways to reach customers through new media. As a single-agency source, the NALA helps businesses flourish in their local community. The NALA's mission is to promote a business' relevant and newsworthy events and achievements, both online and through traditional media. For media inquiries, please call 805.650.6121, ext. 361.