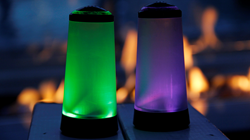 With our shakers, we really are shaking up the dining experience.
Bloomington, MN (PRWEB) September 12, 2017
The Olitus Corporation, the pioneer in smart illumination dispensing, is proud to present iiShakers: salt and pepper dispensers with smart illumination technology. At Olitus, we design our products with you in mind. It is our goal to help make your life a little easier, a little healthier, a little safer and just a little bit better. Starting September 14, 2017, anyone can pre-purchase iiShakers on the community-driven, online platform, Indiegogo, which has helped entrepreneurs raise $1B+ in capital funding. For more information on the iiShakers and instructions on how to contribute, go to iiShakers.com
Independent Illumination Systems Activate at the Right Time and the Right Place
iiShakers feature a revolutionary new technology that activates immediately once the shaker is picked up off the table. Depending on how the shaker is tipped and its type of motion, independent lighting systems activate and deactivate as needed. The system is fully automated and requires no switches. Just pick it up and it works.
Glowing Sidelights Add Ambiance and Help to Better Position the Shaker
Immediately after the shaker is picked up from the table, sidelights begin to glow, adding a never seen before ambiance to the dining experience. With the sides illuminated, the shaker can be better positioned to avoid dropping and spilling. Once placed back down, the system works in reverse order and the lights dim and turn off.
Top Spotlights Brighten the Dispensing Area for Accurate Salt and Pepper Delivery
Top spotlights activate once the shaker is sufficiently tipped for pouring allowing you to see how much salt and pepper is being dispensed and exactly where it is landing. No more over seasoning. As the shaker is tipped upright, the spotlights are deactivated so no more getting a bright light in your eyes.
Bottom Spotlights Act as a Convenient, Easily Accessible Flashlight
Whether you're at a backyard BBQ and need a little extra light to dig through your purse or electrical storms have caused a power outage, the iiShakers' flashlight is ready for action. Simply, pick it up.
LifeShaker Alert System Provides Visual Notification for Over Salting
The LifeShaker Alert System employs a multi-color, multi-stage, lighted alert system to help reduce sodium intake. After a few seconds of pouring, the sidelight color changes to amber to indicate possible excess. If the pouring continues, sidelights change to red to emphasize possible sodium excess.
Bringing Practical Art to the Community
The dawning of iiShakers occurred at a small Italian restaurant in South Minneapolis when its founder could not see where the salt and pepper were landing or how much was being dispensed. "While the low lighting certainly created an amazing atmosphere, I couldn't see a thing. It dawned on me, 'Why not add lights to the shakers themselves instead of having to grab for a cell phone that'll just annoy others?'" recalled Curt Naumann, Olitus CEO. "With iiShakers, we're boosting the light level so you can see without interruption to others, helping to reduce sodium intake, and adding a cool new feature to the dining experience."
About Olitus
Olitus enhances what's practical with smart technologies to deliver revolutionary solutions. From an enhanced dining experience to safer vaccinations for kids, Olitus is committed to making life a little bit better. Olitus is based in Bloomington, MN.