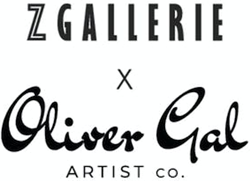 "Disco is all about inclusion. No matter who you are or where you're from, you can come together and have a good time," Lola Sanchez said. "This collection showcases the power of possibility when two unique brands support and trust one another."
FORT LAUDERDALE, Fla. (PRWEB) December 22, 2022
Oliver Gal Artist Co., in collaboration with Z Gallerie, recently launched its exclusive Destination Disco collection during a special event at Z Gallerie's Mizner Park location in Boca Raton, FL. The unique collection takes wall art to a new level of luxury using proprietary techniques, premium materials and embellished finishes.
The Destination Disco line debuted online and in premier locations from Atlanta to Southern California following soon after.
During the event, artist and Creative Director at Oliver Gal Artist Co. Lola Sanchez signed pieces and led live art demonstrations. The brand introduced and immersed customers, attendees and Oliver Gal fans to Destination Disco's unique pieces while creating joy for those seeking a signed one of kind work.
"Disco is all about inclusion. No matter who you are or where you're from, you can come together and have a good time," Sanchez said. "This collection celebrates a new height in its longstanding partnership with Z Gallerie, showcasing the power of possibility when two unique brands support and trust one another."
Inspired by Disco's vibrant energy and color palette, the Destination Disco collection dazzles. The 41-piece collection includes inspired photographic and embellished art pieces featuring diamond dust, metallic leaf gilding, hand-painted accents, textural varnishes and glitter, honoring Z Gallerie's trendsetting and captivating style.
To browse the Z Gallerie collection, click here.
ABOUT OLIVER GAL:
Oliver Gal is a lifestyle brand with a mission: to create a happier, more inspired world by creating and manufacturing high-quality, expressive art and home decor. The company was founded by sisters Ana Sanchez-Gal and Lola Sanchez in 2012 when they realized there was no truly cool museum quality art available at affordable prices. It was their search for the piece that would motivate, decorate, and make you love your decor that led to creating the most awarded wall art and home decor brand in America. The growing South Florida-based art and lifestyle brand was created to capture life's most haute moments, avant-garde objects, and splendid lifestyles in art. Oliver Gal's vibrant, high-impact art has been featured in Forbes, Glamour Magazine, People Magazine, Vogue, Architectural Digest, Boston Globe, and LA Times—among other major U.S. and international publications.
Visit the Oliver Gal website here.