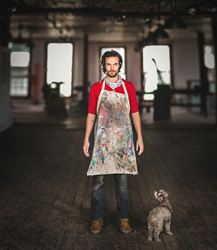 At Serenbe, we celebrate and provide the space for children's freedom of mind, play and imagination everyday.
Atlanta, GA (PRWEB) June 06, 2014
Serenbe Artist in Residence (AIR) program welcomes nationally recognized artists Oliver Jeffers and Sam Winston to Serenbe June 14 – 27. Oliver and Sam will collaborate on the artwork for their new book "Child of Books" during their stay. "Child of Books" will celebrate stories and the freedom of mind that has afforded children for generations. The book will be an invitation to children away from premature adulthood and back into a place of freedom and play, where they can create an imaginary world which is truly their own. "We are thrilled Oliver and Sam have chosen Serenbe for their collaboration. Our philosophies are wonderfully aligned, at Serenbe we celebrate and provide the space for children's freedom of mind, play and imagination everyday," says Steve Nygren, Serenbe Founder.
Fans will have three unique opportunities to meet the artists while in residence. Thursday, June 19th at 6 p.m., individuals can join the AIR Board and Serenbe residents at a Welcome Cocktail party for Oliver and Sam at The Farmhouse restaurant at Serenbe. The following day Steve Nygren will host the artists at an intimate Creative Changemaker Talk & Lunch and on Sunday, June 22 at 2 p.m., Oliver and Sam will be reading, drawing and telling stories on the Selborne Green. For more information and to sign up for events, please visit http://www.serenbe.com.
Oliver Jeffers is an artist, illustrator and bookmaker who has won numerous awards including The New York Times Best Illustrated Book and the 2014 CBC Children's Choice Book Award. Oliver's picture books have been translated into over 30 languages, including Lost & Found, Stuck, The Hueys, The Incredible Book Eating Boy, The Great Paper Caper and most recently the New York Times bestsellers Stuck, This Moose Belongs to Me and The Day Crayons Quit (#1).
From figurative painting and installation to illustration and picture book making, Jeffers work takes many forms. His distinctive paintings have been exhibited in multiple cities, including the National Portrait Gallery in London, the Brooklyn Museum, Lazarides Gallery and Gestalten Space, Berlin.
Working in collaboration with Studio AKA, Oliver's second book Lost and Found was developed into an animated short film that has received over sixty awards including a BAFTA for Best Animated Short Film.
Other picture book awards include the Smarties Award, Irish Book of the Year, The Blue Peter Book of the Year, as well as shortlists for the British Book of the Year, The Roald Dahl Prize and the Kate Greenaway Medal. Oliver won a NY Emmy in 2010 for his collaborative work with the artist and director Mac Premo and was recently award the first ever Hay Festival Medal for Illustration.
Oliver was born in Australia, brought up in Northern Ireland and now lives and works in Brooklyn, New York.
Sam Winston creates sculpture, drawings and books that question our understanding of words both as carriers of messages, and as information itself. His work combines a playful and meticulous assimilation of contemporary information – statistics, data, computer programming – with canonical works such as Shakespeare and the dictionary. He is interested in childhood and story telling and draws us into the underlying subtexts that often exist beneath what might initially appear as 'pure' texts. His work draws upon many approaches and forms, often applying meticulous layers of found text, which are reordered through indexical categories. Through drawing, cutting, folding and typography, complex ideas emerge in new work that seems clear, logical and completely necessary amidst the saturation of financial and media text that is around us and often impossible to process.
He started writing stories and selling artist books through London's Institute of Contemporary Arts and can now be found in many special collections in the UK and the US, including – MoMA New York, Getty Research Institute, Los Angeles, the Tate Galleries London, and Victoria & Albert Museum. He has exhibited internationally and worked on various commissions including COMME des GARCONS Guerrilla Store (Hong Kong) and The New York Times. His work is currently on show in the Courtauld Institute of Art in London.
Artist residencies that follow are Laila Biali, vocalist and jazz pianist, Adejoke Tugbiyele, Fulbright Fellow recently returned from Nigeria, Sarah Kay who returns in November to perform spoken word, and Andrew L. Moore, international photographer and a 2014 Guggenheim Fellow. All artist dates and details here http://www.airserenbe.com/calendar/.
Serenbe Artist in Residence (AIR) is a non-profit artist residency program located at Serenbe in Chattahoochee Hills, GA. The program was formed in 2005 with a mission to promote the creative process by providing artists of the highest caliber time, space, stipend and a welcoming community within which to create. http://www.airserenbe.com
Serenbe is pioneering a new farm-to-table community model connected to nature on the edge of Atlanta. Building a neighborhood where fresh food, fresh air and sustainable development make wellbeing as natural as nature itself. Set among acres of preserved forests and meadows with miles of nature trails connecing homes and restaurants with arts and businesses, Serenbe's architectural planning sets a new standard for community living and engagement by remembering past. http://www.serenbe.com