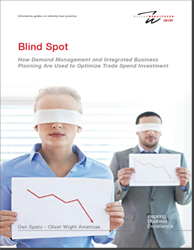 New London, NH (PRWEB) August 03, 2015
Oliver Wight has released a white paper showing how a large, consumer packaged goods company significantly accelerated business growth and reduced trade spend overall by optimizing its trade promotion management. The key to success was incorporating trade spend plans into the company's Demand Management and Integrated Business Planning processes.
Before optimizing trade promotion management, trade spend plans were not frequently communicated by Sales to the Marketing and Supply Chain organizations. Analysis of the program results occurred infrequently.
The Sales and Marketing organizations began collaborating on trade spend programs in the company's monthly Demand Review, which is part of the company's Integrated Business Planning process and a key element of a Demand Management process. Integrated Business Planning is also sometimes called Sales and Operations Planning (S&OP).
Author and Oliver Wight principal Dan Spatz details how advanced visibility of planned trade spend programs helped the Sales and Marketing organizations better align on specific programs. Analysis of trade spend results helped shed light on the effectiveness of each program in specific channels.
The Sales and Marketing organizations began routinely collaborating on trade spend strategies. As a result, the company's business growth rate accelerated significantly. At the same time, the company spent less on trade spend overall.
The aptly-titled white paper, "Blind Spot: How Demand Management and Integrated Business Planning Are Used to Optimize Trade Spend Investment," along with information on Integrated Business Planning is available on the Oliver Wight Americas website
About Oliver Wight Americas
Oliver Wight Americas' principals have been both thought leaders and hands-on practitioners in manufacturing for more than 40 years. As a global business management consulting and education firm, the company specializes in helping organizations work smarter, faster, and better than their competitors. Our principals are seasoned professionals who have real-world manufacturing experience. They are able to transfer this knowledge to the people at all levels of an organization, providing tools to help organizations internalize that knowledge and achieve a competitive advantage in the marketplace. The largest worldwide consultancy of its type, Oliver Wight has offices throughout Europe, North and South America, and the Asia/Pacific Region.