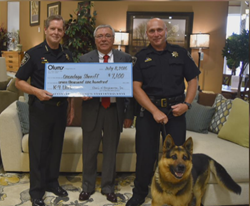 "I'm very satisfied with the turn-out and generous contributions made by those who were a part this year's event," Olum's President Keith Solomon stated
VESTAL, NY (PRWEB) July 26, 2016
Major employee-owned furniture store Olum's recently gave back to the community on June 9 with their 15th Annual Vendor Appreciation Day golfing event, which successfully raised over $7,000 toward the Onondaga County Sheriff's Office K9 Unit.
Event proceeds offered to the sheriff's office will be used to add a new canine member to the team, a German Shepherd they plan to name "Olum."
Olum's 15th Annual Vendor Appreciation Day event was held at Willowbrook Golf Course in Courtland, New York. Vendors, as well as partners and employees of Olum's, spent the day enjoying golf and great food while raising funds for Onondaga County Sheriff's Office K-9 Unit, this year's recipient of all proceeds collected.
"I'm very satisfied with the turn-out and generous contributions made by those who were a part this year's event," Olum's President Keith Solomon stated. Solomon, who presented the check of $7,100 to Onondaga County's Sheriff Gene Conway on July 8, added that he's happy to know that partners and members of his company can come together to positively impact a supportive community.
The Onondaga County Sheriff's Office K-9 Unit has four teams, each consisting of a canine partner for a deputy. The rookie team member of the K-9 unit will be trained to perform narcotics and explosives detection, criminal searches, searches for missing persons, providing protection and other various tasks while on duty with their human partners.
Olum's is an independent retailer known for a varied inventory that includes furniture, appliances and electronics. Several stores operating throughout New York State include two in the Greater Binghampton area, one in the Northern Lights Plaza in Mattydale, and the most recently opened appliance store in East Syracuse. The company celebrated their 100th year anniversary last year, and will be celebrating the one year anniversary of their latest furniture store opening in Syracuse.
Those interested in Olum's and their furniture store inventory and future events and news may visit their location at 3701 Vestal Parkway E in Vestal, New York 13850. Interested consumers and those with inquiries may also contact them at 607-729-5775 or visit their website at http://www.olums.com.
Olum's first opened in 1914. Today, their expansive inventory includes furniture, mattresses, appliances and electronics. In addition to providing quality products, customer service is their main priority. They provide product repairs and assistance to achieve customer satisfaction. Olum's also assists customers with its own financing program, the Exclusive Magic Circle Credit Plan.