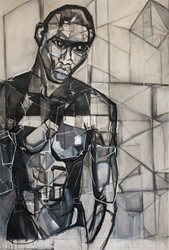 This body of work establishes itself as a visual territory to a vulnerable eye that much like a mirror, can see oneself in each piece. (Jae Joseph, Curator)
New York, New York (PRWEB) March 31, 2015
Gallery 151 Presents
Oluseye: ORI
On View April 2nd - April 23rd, 2015 at Gallery 151
132 West 18th Street, New York, NY 10011
Opening reception Thursday, April 2nd from 6pm - 9pm
Gallery 151 is pleased to announce Ori, the first solo exhibition from Toronto-based visual artist, Oluseye. The term Ori is a Yoruba concept that is literally translated as 'head' – the physical attributes including the brain and sensory organs. Ori, the mental faculties (intellect, imagination, memory) Ori, the emotional nucleus (conscience, compassion, attraction and sexuality) and also the metaphysical concept that represents the essence of one's being and individuality – an immaterial force that determines personality and destiny.
Originating from Lagos, Nigeria, Oluseye combines his interest in Yoruba culture and geometry as a reference to explore universal themes of sexuality, spirituality and identity. In ORI, he deconstructs and reinterprets notions of the Yoruba term and concept Ori. Working in a monochromatic palette, Oluseye captures a raw and primeval sensibility that evokes mood and an unsettling otherworldly consciousness. He portrays in his subjects a physical-spiritual identity by distorting and combining human, sculptural and mask elements.
By melding these ideas he creates a visual narrative in which concepts of identity & being, body & mind, sex & sexuality, the physical & spiritual are vital and fluid constituents of Ori. As per Yoruba doctrine, 'Iwa-pele' – a concept comparable to Maslow's theory of self-actualisation – is realised only when there is balance amongst these constituents.
Each Ori is singular in appearance and experience. However, they are bound together by a metaphoric "geometric chaos", and a collective sense of vulnerability, melancholy and empathy.
The exhibition is organized by Jae Joseph, an emerging curator in the contemporary arts, with a mission to produce innovative, provocative works which convey the diverse narratives of our time through exhibitions. The exhibition is in partnership with MAKER magazine.
MAKER is a bi-annual publication shedding light on the creative mind and spirit, articulating the often unexplored, more personal projects and perspectives of contemporary artists. Artists work in collaboration with MAKER to interpret and shape the theme of each issue through their unique points of view.We encourage contributors to utilize pages as a blank canvas examining the creators as a work of art themselves—peeking past the curtain to explore the enigmatic mind and the innovation behind it.
Gallery 151 is the premier pop-up gallery in New York City, now located in Chelsea on West 18th Street. The mission of Gallery 151 is to support emerging New York-based artists and provide a platform for their talent to be recognized by the public.
The first show at Gallery 151 was hosted by Fab 5 Freddy in December of 2007. This exhibit unveiled a collaborative wall of graffiti discovered during the renovation of 151 Wooster by Michael Namer, downtown developer and owner of the building at the time.
Gallery 151 is open to the public, Tuesday through Saturday from 11am to 6pm.
Join the conversation on Instagram and Twitter by mentioning @gallery151 and using the #ORI hashtag when posting.
Press and Image requests: Meg Samuelson | FREIDE+CO | meg(at)freide(dot)co | +1.917.612.6510