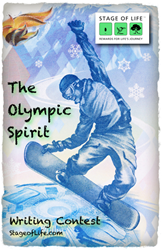 16.5% of teens followed an Olympic athlete on Twitter during the 2014 Sochi Winter Games.
York PA (PRWEB) March 31, 2014
To understand how today's teenagers interacted with the 2014 Sochi Winter Games, StageofLife.com, an international, multi-generational writing community, asked high school and college students questions about the Olympic Spirit as part of its monthly writing contests and life surveys.
The results revealed the following statistics about teenagers and the Olympics:
--46.4% of teens like watching the Summer Olympics more compared to students who rated the Winter Olympics higher (10.3%), both equally (26.2%) or those who don't watch the Olympics at all (17.1%).
--Figure Skating, Snowboarding and Ice Hockey ranked #1, #2, and #3 respectively as the most watched Winter Olympic events on TV by teenagers out of 13 different events provided. The Nordic Combined event ranked last, with less than 1% of teens tuning in to watch.
--92.2% of teenagers say they are motivated by competition.
--34% of students selected the "Spirit of International Unity" as the most important symbolic meaning for the Olympics. Other choices included Spirit of Champions (12.5%), Spirit of History and Tradition (4.4%), Spirit of Inspiration (32.4%), and Spirit of Competition (16.8%). Teens care more about the international goodwill of the Olympic games over other arching themes, i.e. tradition.
--84.1% of young adults say they watched some of the Sochi Olympic Winter Games.
--26.8% of high school and college students created a Tweet or Facebook post about the Olympic Games.
--16.5% of teens followed an Olympic athlete on Twitter.
Over 5,300 students visited the essay and survey page during the Olympic writing prompt and hundreds fully answered the poll. An additional 120+ teen bloggers submitted an essay to StageofLife.com sharing their personal story and thoughts that answered the question, "What does the Olympic Spirit mean to you?"
The winning 1st place student essay, "The Olympic Spirit: War Without Blood" was written by Hannah Eareckson, who attends Communications High School in Wall, NJ and the winning 1st place non-student essay was submitted by substitute teacher, April Willrich from Arlington, Texas in her story, "Go for the Gold."
When Rebecca Thiegs, VP of Education for Stage of Life, asked about her inspiration behind writing, Eareckson responded, "Writing allows you to convey your thoughts and beliefs to everyone who reads your words. The potential power of words is limitless, and I believe that it is imperative that people learn how to properly use language to convey their stories to the world."
Editors also selected a winner from its "Short Short Story" Twitter contest which tied into the monthly writing prompt about the Olympics. The winning Tweet came from @TJoyaArt who wrote, "So sweet a sound assists elegant figures removing doubt, pulling humanity back into unity, for Olympians we shout #figureskate"
Winners from the writing and Twitter contests received gift cards from StageofLife.com educational corporate sponsors Applebee's, IHOP, Papa John's, and SpaWeek.com.
To read all of the essays and download the full teen statistics report on this and other monthly writing contests and teen trends, visit StageofLife.com.
StageofLife.com is a privately funded, start-up company founded in 2009 by Joe and Eric Thiegs. The website's mission is to change the world, one story at a time. The site welcomed its 1,000,000th visitor last year and provides an international writing community for today's teen, Gen X, Gen Y, and Baby Boomer generations.