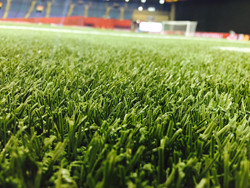 We focus new turf developments on the latest player safety research, biomechanical standards, and best natural grass benchmarks.
Austin, Texas (PRWEB) June 30, 2015
From design to manufacturing to installation, the synthetic turf pitch at Olympic Stadium Montreal has been expertly built to host the world's greatest football talent. Tonight, it will stage a momentous match, as USA and Germany kick-off game one of the FIFA Women's World Cup 2015 semi-finals.
"To see two of the top football teams in the world play here will be fantastic," said John Baize, managing director of Act Global. "We're honored to have supplied this world-class field with partner Carpell Surfaces, which has received excellent reviews regarding quality, aesthetics and performance."
The artificial turf from Act Global – called Xtreme Turf DX—features the latest generation in 3G turf technology. The pitch was professionally installed by Carpell Surfaces and certified FIFA Two Star, which is benchmarked against top natural grass in terms of ball bounce, ball roll, foot interaction, skin abrasion and shock absorption.
"We focus new turf developments on the latest player safety research, biomechanical standards, and best natural grass benchmarks," said Baize. "Performance is confirmed through independent testing and third-party certifications."
In addition, Carpell is actively monitoring and maintaining the condition of the Olympic Stadium pitch throughout the tournament, including for tonight's match. The turf is groomed to keep the synthetic grass blades standing upright, and the infill is checked and topped off to precise levels. Seams, edges and line markings are inspected to ensure a consistent, safe surface for all Women's World Cup players.
Paul Caron, president of Carpell Surfaces, said this attention to detail, quality and follow-up are fundamental to providing the best playing conditions.
"Our crews have worked extremely hard to ensure the world's top players would enjoy playing on the very best surface for the tournament," said Caron.
These advancements in synthetic turf quality, installation and maintenance practices have driven its sustained growth in both men's and women's elite sports around the world. The latest 3G turf provides a consistent, equal playing surface, proven similar in performance, fatigue levels, injury rates, and match statistics when compared to natural grass.
"As demonstrated by synthetic's continued acceptance within professional clubs, tournaments and governing bodies of sport, it has secured a place among the elite sporting community," said Baize. "Some of the best pitches in the world are synthetic."
Germany and USA kick off tonight at 19:00 local time at Olympic Stadium Montreal. The winner will advance to the Women's World Cup Final to be played July 5.
"We look forward to the final matches of the Women's World Cup tournament, and sharing in the excitement of the fans and players around the world," said Baize.
**The Olympic Stadium pitch features Act Global Xtreme Turf, with an exclusive MN Global Bonar Yarns fiber blend. The pitch was installed by Carpell Surfaces, over Schmitz Foam ProPlay shock pad and finished with eco-friendly performance infill.
ABOUT ACT GLOBAL
Act Global is a world leader in synthetic turf technology, with manufacturing facilities in USA, Europe and Asia, and sales in more than 70 countries. The company carries a full range of artificial turf products for sports (Xtreme Turf), landscaping (Xtreme Lawn), aviation (AvTurf) and land reclamation (LiteEarth). Act Global is notable for currently being the first company in the world that is a FIFA Preferred Producer for Football Turf, Synthetic Turf Council Certified Manufacturer, World Rugby Preferred Turf Producer, and holds an ISO 9001 certification. Its products have undergone hundreds of independent laboratory tests for quality, durability, safety, environmental soundness, and performance. For more information, visit http://www.ActGlobal.com.