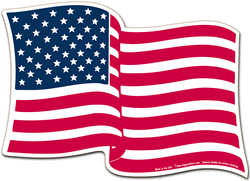 A single US flag magnet on a car might be seen by 100 people during one commute to work - a great way to spread American pride.
Chicago, IL (PRWEB) January 31, 2014
Internet traffic to SupportStore's patriotic item assortment has doubled during the month of January as Olympic fever starts to spread.
SupportStore's patriotism page is a one stop shop for ways to show American pride. Items in stock and available with same day shipping include:

Red white and blue rubber wristbands
Flag lapel pins
American flag Tervis tumblers
Flag magnets - rectangular, wavy, small and large
Flag ribbon magnets
USA oval decals
Car flags
Stick flags
Embroidered stick on flags
16 foot fiberglass flag poles
Quantity discounts are shown on the item page for groups and events. The current in-stock quantities are displayed so customers know exactly how many are available to ship today.
A percentage of each purchase accrues in a "Cash for Causes" account for donation to a favorite charity or used for future discounts.
About SupportStore
SupportStore is an Illinois-based online only retailer of items people and businesses use to "shout out what they care about." Customers choose from 500 in-stock items that ship same day. Customers can also choose to create custom designed magnets and wristbands in bulk quantities.
Live US-based customer service is available by phone during business hours. Most products are designed and manufactured in the United States of America.
SupportStore is a registered trademark and "Shout out what you care about" is a trademark of ZapTel Corporation.