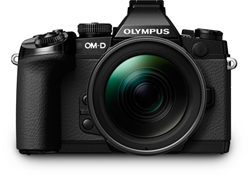 Olympus OM-D E-M1 Mirrorless Micro Four Thirds Digital Camera—Hands-on Review at B&H Photo Video
NYC, NY (PRWEB) September 10, 2013
The new Olympus OM-D E-M1 Micro Four Thirds camera is a high-end offering aimed squarely at the professional and advanced enthusiast, and adds significant enhancements to the already well-received OM-D E-M5. The new 16.3MP Live MOS sensor features rapid dual-phase and contrast autofocus (AF) and is coupled with a new TruePic VII image processor designed for maximum performance, allowing the camera to easily compete image-wise, and in some cases beat, larger-sensor-sized cameras. Read and learn all about the Olympus OM-D E-M1 Mirrorless camera and a full hands on review at BH In-Depth http://www.bhphotovideo.com/indepth/olympus/news/first-impressions-olympus-om-d-e-m1-mirrorless-micro-four-thirds-digital-camera
The Olympus OM-D E-M1 Mirrorless Micro Four Thirds digital camera is a compact, ergonomically design camera featuring a 16.3 megapixel Live MOS sensor and TruePic VII image processor to produce high-resolution still imagery and full HD 1080p video with notable low-light quality and high-speed performance. The combination of these two technologies enables a high sensitivity range from ISO 100-25600 and also contributes to a top 1/8000 sec. shutter speed and continuous shooting up to 10 fps. The sensor also lends itself to an enhanced FAST autofocus system that utilizes dual contrast- and on-chip phase-detection focusing methods to quickly and accurately acquire focus with selectable focus areas for even greater precision.
Read all about the Olympus OM-D E-M1 camera at http://www.bhphotovideo.com/c/product/1003633-REG/olympus_v207010bu000_om_d_e_m1_mirrorless_micro.html
Also benefitting image sharpness is in-body 5-axis image stabilization that compensates for vertical, horizontal, and rolling camera shake. IS-Auto mode can also be employed, which intelligently detect both vertical and horizontal panning and disengages image stabilization along the detected axes to provide stabilization when photographing moving subjects.
For refined off-board control and image sharing, built-in wireless connectivity is available and, when paired with the Olympus O.I. Share app for iOS and Android mobile devices, remote sharing and control over the camera is possible. QR Code Connect provides a simple, seamless way of linking mobile devices to the camera and the option of utilizing a smartphone to embed locational data into the image files for Geo tagging is also supported.
16.3MP Live MOS Sensor and TruePic VII Image Processor The 16.3 megapixel Live MOS sensor and TruePic VII image processor work in concert to enable high resolution still imagery, full HD video recording, and notable low-light quality sensitivity to ISO 25600. The combination of these two technologies also helps to promote high-speed performance throughout the camera system, including a top shutter speed of 1/8000 sec. with a mechanical shutter, a continuous shooting rate up to 10 fps with Tracking AF, and continuous 6 fps shooting with continuous autofocus.
Olympus OM-D E-M1 Mirrorless Micro Four Thirds Digital Camera Product Highlights
http://www.bhphotovideo.com/c/product/1003633-REG/olympus_v207010bu000_om_d_e_m1_mirrorless_micro.html

16.3MP Live MOS Sensor
TruePic VII Image Processor
Micro Four Thirds System
FAST Dual Phase- & Contrast-Detection AF
Interactive 2,360k-Dot EVF
3.0" 1,037k-Dot Tilting LCD Touchscreen
5-Axis Image Stabilization with IS Auto
Built-In Wireless Connectivity
10 fps and 1/8000 sec. Top Shutter Speed
Dust/Splash / Freeze-proof Magnesium Alloy Body
Olympus also announced the M. Zuiko Digital ED 12-40mm f/2.8 PRO lens; a wide-angle to portrait-length zoom lens featuring a constant f/2.8 maximum aperture. This lens provides a 35mm-equivalent field of view of 24-80mm and incorporates a high-speed imager AF linear motor drive system, with MSC (Movie and Still Image Compatible) support, to provide fast, smooth, and quiet focusing performance. One aspherical ED (extra-low dispersion) element, two aspherical elements, one DSA (Dual Super Aspherical) element, two extra-low dispersion elements, one HD element, and two HR (high-refractive index) elements are all incorporated within the lens construction to reduce chromatic aberrations and distortion throughout the zoom range while also contributing to high overall sharpness and clarity. Additionally, the lens features a dust- and drip-proof construction that complements the E-M1 body for overall weather-resistance. Read all about the lens at http://www.bhphotovideo.com/c/product/1003635-REG/olympus_v314060bu000_m_zuiko_digital_ed.html
The Olympus OM-D E-M1 Mirrorless Micro Four Thirds camera comes also as a kit which includes the 12-40mm wide-angle to portrait-length zoom lens http://www.bhphotovideo.com/c/product/1003634-REG/olympus_v207017bu000_om_d_e_m1_mirrorless_micro.html
B&H Photo, a qualified Olympus Authorized reseller with the most up to date Olympus product information, product pricing and individual promotional offers. B&H Photo is currently accepting pre-orders on the OM-D E-M1 Mirrorless Micro Four Thirds digital camera with 12-40mm lens http://www.bhphotovideo.com/c/product/1003634-REG/olympus_v207017bu000_om_d_e_m1_mirrorless_micro.html
Connect with B&H Photo on the web! (Facebook, Twitter, Tumblr, Google+, Pinterest, Flickr, YouTube, B&H Insights & InDepth)
About B&H Photo Photo Video
As the world's largest source of photography, video and audio equipment, B&H Photo-Video is known worldwide for their attentive, knowledgeable sales staff, and excellent customer service, including fast and reliable shipping. Visitors to the website can access a variety of enlightening articles and educational videos. B&H has been satisfying customers worldwide for nearly to 40 years. http://www.bhphotovideo.com/