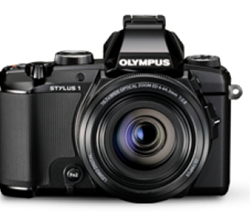 Introducing the Olympus STYLUS 1 Compact Digital Camera—Now Available at B&H Photo Video.
NYC, NY (PRWEB) October 29, 2013
The Olympus Stylus 1 features a newly-developed constant aperture f2.8, 10.7x optical zoom i.Zuiko lens. The constant aperture of f2.8 across the zoom range produces pro images with beautiful, artistic, defocused backgrounds and crisp subjects. This large-diameter lens, with focal lengths of 28-300mm, enables you to capture distant subjects in dim scenes with exceptional clarity and vividness. This bright lens maintains the same quality standards as the Olympus Zuiko Digital interchangeable lenses.
With a 1.15x viewfinder magnification rate and 100% field of view, the 1.44 million-dots-resolution EVF is perfectly positioned on the optical axis for eye-level composition and live view of Exposure Compensation, White Balance, Art Filters and more. Thanks to the eye sensor, the live view display automatically switches from the rear monitor to the viewfinder instantly as one brings the camera to the eye.
From perfect zooming or fine manual focusing in analog mode, to adjustment of the aperture, shutter speed and more in digital mode—it's all easy with a simple twist of the hybrid control ring around the lens. Switch between analog and digital modes with the dedicated lever on the front of the camera. The Olympus STYLUS 1 features two customizable function buttons for easy access to ones favorite settings. When used in combination with the control ring and sub dial, one can access nearly all camera functions without taking ones eye away from the viewfinder.
The Olympus Stylus 1 digital camera includes a built-in Wi-Fi that allows instant sync between the camera and a smartphone or tablet. When using the Olympus Image Share (OI.Share) application, the remote function allows full control of the camera's shutter speed, aperture, ISO, Bulb shooting and more—all from your smart device. See the camera's live view, select autofocus point, release the shutter button and start the self-timer right from a phone. One can geotag the photos swiftly and share images with friends on a smart device, and apply Art Filter effects and customized signature stamps to the transferred images and videos.
B&H Photo Video is a qualified Olympus Authorized dealer with the most up to date Olympus product information, product pricing and promotional offers.
Olympus Stylus 1 Digital Camera Product Highlights
■ 12MP 1/1.7" BSI CMOS Sensor
■ 10.7x Optical Zoom Lens
■ 28-300mm Equiv; f/2.8 Constant Aperture
■ Super Macro Mode with 2" Minimum Focus
■ Full 1080p HD Video
■ Wi-Fi Connectivity
■ Hybrid Control Ring and Zoom Lever
■ Built-in Flash
Connect with B&H Photo on the web. (Facebook, Twitter, Tumblr, Google+, Pinterest, Flickr, YouTube, B&H Insights & InDepth)
About B&H Photo Video
As the world's largest source of photography, video and audio equipment, B&H Photo-Video is known worldwide for their attentive, knowledgeable sales force, and excellent customer service, including fast, reliable shipping. Visitors to the website can access a variety of enlightening articles and educational videos. B&H has been satisfying customers worldwide for close to 40 years. http://www.bhphotovideo.com/