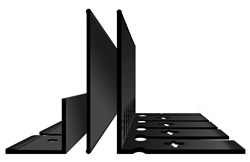 Villa Park, IL (PRWEB) December 12, 2013
Oly-Ola Edgings, Inc., the leading producer of premium grade 100% recycled commercial paver restraint and landscape edging products, announces that their hardscape and green roof vinyl edgings are produced from post-industrial vinyl sheet scrap used in retail blister pack packaging. PVC blister packs are used to package products such as batteries and windshield wipers, to name a few. Oly-Ola's vinyl products include their line of Bulldog-Edg™, Stone-Edg™ and Bric-Edg™ "L"-shaped paver restraints, 6" high Teco-Edg™ green roof edging and 6" high low profile Super-Edg™ landscape edging.
Oly-Ola is very selective of the 100% recycled reprocessed material that goes into their vinyl edging products. Not only are the materials purchased from a consistent commerical supplier, the raw materials come from only high quality post-consumer plastics. This high quality reprocessed material makes Oly-Ola landscape edgings and paver restraints stronger and more durable than other vinyl edging products and enables Oly-Ola to offer an exceptional product guarantee.
Oly-Ola has the landscape industry's strongest comprehensive guarantee: 100% Plus for 20 Years Includes All Freight and Labor. Their "Hassle-Free Shipping Promise" means that they will do everything they can to make sure that an edging order arrives complete, undamaged and on time. In addition, Oly-Ola maintains a large inventory 12 months a year, so there are no back orders.
Oly-Ola Edgings, Inc. has been successfully serving landscape architects and contractors worldwide for over 35 years. Headquartered in Villa Park, Illinois, USA, they produce the most complete line of polyethylene/vinyl edging and paver restraints in the landscape industry. Oly-Ola has an international distributor network and supports many national and state landscape organizations. All Oly-Ola products are made in the USA.
For more information, please call or write:
Oly-Ola Edgings, Inc.
124 E. St. Charles Road, Villa Park, IL 60181
Phone: 800/334-4647
Fax: 630/833-0816.
E-mail: edgings(at)olyola(dot)com
Website: http://www.olyola.com