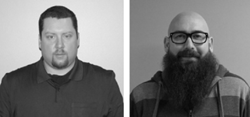 Omaha, NE (PRWEB) March 31, 2014
B² Interactive, a web development and Internet marketing firm in Omaha, Neb., is proud to announce the recent additions of Brad Pitzl and Ross Allen to its staff. Both Pitzl and Allen bring years of website experience and join B² Interactive as web development experts focused on search engine optimization (SEO) services.
"We are excited to add Brad and Ross to the team. Both have diverse and complementary backgrounds in web development, which will be very beneficial for the various needs of our clients," said Bill Hipsher, co-founder of B² Interactive.
At B² Interactive, Pitzl will work on increasing the relevancy of search results for local clients and build upon the success B² Interactive's national client, Storage.com, has already seen. Pitzl will also oversee development of natural optimization campaigns for all B² Interactive clients and growth of the SEO department in the near future.
Before joining B² Interactive, Pitzl served as SEO operations manager for Inflection, the Omaha branch of a Silicon Valley data company. With a degree in electronic arts, Pitzl understands that the artistic quality of how external links look on a site is just as important to SEO as data and formulas.
While Pitzl has worked in multiple areas of SEO, his specialty is off-site optimization. Quality, white hat, off-site SEO is a valuable commodity that every website operator and agency covets. With the addition of Pitzl, B² Interactive and its clients take another step forward in building stronger web presences.
Allen, who relocated to Omaha from Leicester, England, where he received a degree in multimedia computing, has most recently worked as an assistant webmaster for an international travel agency. He managed over 40 websites in 10 languages. Allen's work ranged from web design, on-site optimization, affiliate marketing, and other duties related to building strong, search engine optimized websites and web presences.
Allen will expand B² Interactive's SEO presence and increase web traffic. He will focus primarily on on-page or on-site optimization. On-page optimization is another critical area in building a strong web presence, as it is used to make sure the website, itself, is appropriately structured so that search engines can understand the content on the site.
The complementing specialties that Pitzl and Allen, together, provide will be a huge benefit for B² Interactive and its clients going forward. Pitzl and Allen join an existing team of more than 20 website development and optimization associates at B² Interactive, who together boast more than a century's worth of combined experience.
B² Interactive is excited about the possibilities that these team members provide and look forward to their contributions with the company.
###
B² Interactive is a website design, development and Internet marketing firm in Omaha, NE. The co-founders of B² Interactive have years of experience building, operating and promoting sites from small to large on a local and national level. B² Interactive takes their experience and focuses on taking your Omaha online marketing efforts to the next level. Services offered include Website Design and Development, Search Engine Optimization (SEO) and Search Engine Marketing (SEM), Social Media Marketing and Campaign Management, Content Marketing and Management, Paid Search Advertising Management, Website, SEO and Social Media Analytics and Optimization.