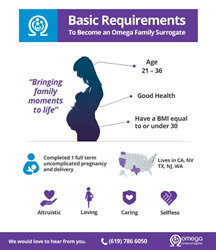 The sense of inherent purpose and joy these Omega Surrogates give to a family is immeasurable and will be a memory these Intended Parents will treasure for a lifetime.
SAN DIEGO (PRWEB) July 11, 2019
Starting a family is a dream for many couples in America. However, that dream oftentimes does not come true for some, as they are unable to have children of their own. Furthermore, once they decide on surrogacy, they might go it alone, which can make them feel even more lost.
Fortunately, Omega Family Surrogates, a comprehensive Surrogacy Agency that professionally deals with all aspects of the Surrogacy Process, helps give the greatest gift to these people -- the possibility of parenthood. In fact, it has been assisting Intended Parents for years by working through the many options to medically and legally assist in having a child, thus making the dream of family creation a reality.
In addition to much buzzed about in vitro fertilization techniques, many families are turning to Assisted Reproduction Technologies (ART), which involves an Omega Surrogate (http://www.omegafamilysurrogates) to help carry the embryo to birth. Omega Family Surrogates has become a proven leader in helping clients navigate all medical options and ultimately finding a Surrogate if needed or preferred.
"There are more than enough families seeking alternatives to having a child, and Omega Family Surrogates aims to raise awareness about surrogate programs by educating and attracting potential Surrogates," said Dr. Kyle Kramer, co-founder of Omega Family Surrogates. "The sense of inherent purpose and joy these Omega Surrogates give to a family is immeasurable and will be a memory these Intended Parents will treasure for a lifetime."
There are a few requirements to becoming an Omega Surrogate. For example, potential Omega Surrogates must be between the ages of 21-36, and an Omega Surrogate must have a BMI of 30 or lower.
"Did you know that you can be an Omega Surrogate even if you have tattoos?" asked Dr. Kramer. "They just need to be at least a year old and there is no need for a sterile condition letter or a copy of health department certification. If you've had preeclampsia in a previous pregnancy, however, it will likely disqualify you from becoming a surrogate."
Furthermore, a woman can become an Omega Surrogate even with her tubes tied. For more information about this, please watch an informative video at https://www.facebook.com/omegafamilysurrogates/videos/1082412181956905/.
Omega Family Global's FDA-approved technologies and programs give peace of mind to both Intended Parents and potential surrogates, and its in-house legal team gives an added layer of protection and accountability that is always needed. "Our firm works closely with our Surrogates to ensure the entire process is smooth and that communication is crystal clear," noted Tracy Armato, Director of Parenting Services. "Our mission is to be a leader in assisted family creation to leave adoption out."
For more information on becoming an Omega Surrogate, please visit https://info.omegafamilysurrogates.com/become-an-omega-family-surrogate.
About Omega Family Surrogates
Omega Family Surrogates is a comprehensive Southern California agency that provides guidance, services, experience, and knowledge to Intended Parents, originating from any state or country. Omega Family Surrogates exists to make new family creation as simple as it can be, while being legally protected. For more information, please call (619) 800-6505, or visit https://omegafamilysurrogates.com/.
For media inquiries, please call the NALA at 805.650.6121, ext. 361.