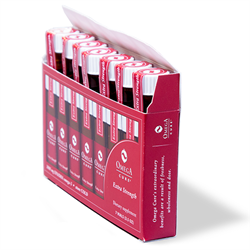 Most people don't know you need between 8 to 10 fish oil capsules a day to experience the benefits cited in many research studies.
Venice, FL (PRWEB) November 25, 2014
"When it comes to omega-3, there are two primary reasons why most people do not experience benefits," says Bo Martinsen, MD, co-founder of Omega3 Innovations. "Dose and consistency - people either don't know how much to take or give up too early."
This week, Omega3 Innovations is cyber launching what it believes to be the solution to the dosage confusion: Omega Cure Extra Strength. Presented in single-serving glass vials, each daily dose of Omega Cure Extra Strength contains 3000 mg of EPA/DHA from cod liver oil - the same amount found in roughly 10 regular fish oil capsules or a 5 oz. fillet of salmon for dinner. Compared to most omega-3 oils, Omega Cure Extra Strength has no fishy taste or smell because of its superior freshness, writes the company.
"While the delivery system is simple, it's actually quite revolutionary within the omega-3 world," says Dr. Martinsen. "Most people don't know you need between 8 to 10 fish oil capsules a day to experience the benefits cited in many research studies. Most manufacturers aren't willing to share that information because they know consumers would never swallow that many capsules."
Together with his wife and fellow Omega3 Innovations co-founder, Anne-Marie Chalmers, MD, Dr. Martinsen has dedicated the last 20 years to educating patients and customers about dose. Still, they say, dosage is a complicated topic.
"We tell our customers to take three teaspoons of Omega Cure a day to help relieve chronic joint issues," says Dr. Chalmers. "But spoons come in different sizes, some people drink directly from the bottle, and some people don't fill up their spoon all the way because they are afraid the oil will spill on their clothes. Believe it or not, those seemingly small inconsistencies make a difference."
Drs. Martinsen and Chalmers believe Omega Cure Extra Strength will make it easier for fellow physicians to communicate the daily dosage of omega 3 necessary to achieve results. They also feel that for customers purchasing online, Omega Cure Extra Strength provides a straightforward dosage solution.
"This is very simple - drink one vial a day every day," says Dr. Martinsen.
Besides containing an effective dose of omega-3, the physician team says Omega Cure Extra Strength also features record-low omega-3 oxidation levels, is travel-friendly, and is one of the only omega-3 products on the market to contain over 60 different naturally occurring fatty acids.
About Omega3 Innovations:
Omega3 Innovations is the world's only manufacturer to have successfully created baked foods containing an effective daily dose of omega-3 fish oil. As a physician-directed biotech company, Omega3 Innovations has developed a complete line of fresh omega-3-based foods, including Omega Cure® liquid fish oil, the gluten-free Omega Cookie®, chocolate-covered Omega Heaven™ cookies and Omega Passion® frozen chocolate truffles. All Omega3 Innovations products are free of gluten, trans fats, added sugars and preservatives.