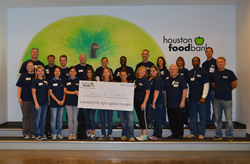 "Childhood nutrition and food security can impact a lifetime of eating habits and health, and that's what makes the help of individuals and organizations like Omega Protein so critical to this area and even the state."
Houston, Texas (PRWEB) October 17, 2014
Thursday marked an important day of service for employees at Omega Protein's Houston headquarters. A team of 25 volunteers joined the Houston Food Bank, the largest Feeding America food bank in the nation, to sort and repackage donated goods for distribution to area charities leading the fight against hunger and malnutrition. Houston Food Bank produces approximately one meal per minute, assisting more than 135,000 regional residents each week. Volunteers like those from Omega Protein help make their efforts possible.
The Houston Food Bank serves more than 50 million nutritious meals annually, and quality control is an essential step in that process. Omega Protein's volunteers inspected donations to prevent any damaged or expired goods from making their way to food assistance recipients. The volunteers also sorted through bulk donations, repackaging them into portions put to use directly assisting regional residents.
"As a nutritional company headquartered in Houston, and more importantly as community members ourselves, we are concerned for the health of Southeast Texas communities," said Omega Protein's President and CEO Bret Scholtes. "Our partnership with the Houston Food Bank allows us to assist a volunteer network that transforms food donations into balanced, healthy meals for our neighbors in need."
According to Houston Food Bank's President and CEO Brian Greene, the work of volunteers like Omega Protein's is all the more urgent in Southeast Texas, where child nutrition is a serious concern. "On any given day, we have about 5,000 children who are hungry in Southeast Texas. Childhood nutrition and food security can impact a lifetime of eating habits and health, and that's what makes the help of individuals and organizations like Omega Protein so critical to this area and even the state." In addition to volunteering, Omega Protein also donated food and made a financial contribution to the Food Bank.
The meals that Omega Protein helped package will go directly to food pantries, soup kitchens, and meal sites, as well as programs geared specifically for children, like Backpack Buddy. Each Friday, Backpack Buddy programs nationwide provide children in need of food assistance with child-friendly and vitamin-fortified food for the weekend. 47 percent of those who receive Houston Food Bank assistance are children.
Across the country and around the world, Omega Protein is actively illustrating its commitment to community service and global leadership. Earlier this week, Omega Protein's Dr. Mark Griffin, President of the Company's Animal Nutrition Division, shared his expertise on aquaculture and food security issues to world leaders at a meeting hosted by the United Nations Food and Agriculture Organization. In August, employees at the Company's Reedville, Va. facility gleaned nearly three tons of local crops to benefit a regional food bank. These same employees returned to the fields in early October, harvesting an additional 16,000 servings of fresh vegetables. Efforts like these are a fundamental component of the Company's Corporate Social Responsibility (CSR) program. Released earlier this month, Omega Protein's inaugural CSR Report overviews the Company's plans to advance its involvement in community service as well as its century-long tradition of improving nutrition through high quality products.
Omega Protein Corporation (NYSE:OME) is a century old nutritional company that develops, produces and delivers healthy products throughout the world to improve the nutritional integrity of functional foods, dietary supplements and animal feeds. Omega Protein's mission is to help people lead healthier lives with better nutrition through sustainably sourced ingredients such as highly-refined omega-3 rich fish oil, specialty proteins and nutraceuticals.