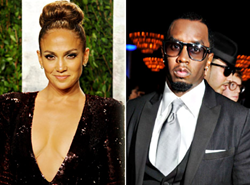 Ultimately, the 'Dirty Money' rapper felt it was a 'her or me' situation.
Fort Lee, New Jersey (PRWEB) August 22, 2013
In a world in which relationships come and go, it looks like heartache can last a decade or more for some of the world's biggest stars. In what appears to be a case of unresolved feelings for Jennifer Lopez, the woman who left him 11 years ago, Sean "Diddy" Combs has turned down an offer to join the panel of celebrity judges on the "American Idol" set after learning Lopez would be returning to the show. In a new OMFGGossip.com blog dated August 21 and titled, "OMFG! Diddy Rejected 'American Idol' Because of J-Lo," Marble Media LLC blogger Nan C. discusses the discomfort that surfaced when the two worked together on the 'Idol' set in 2011, and the resulting drama he says he wants to avoid.
The music powerhouses dated from 2009 to 2001. Lopez walked out on the relationship after Diddy's involvement in a gun incident in a Manhattan nightclub threatened to tarnish her career.
Diddy coached a contestant in a 2011 "American Idol" episode, and although he did not appear live on the show, his involvement seemed to rattle Lopez. The 43-year-old hip-hop mogul was eyeing the third spot as judge for season 13 of "American Idol", but quickly backed out when Lopez announced her intention to make a comeback as a judge, according to Us Weekly writer Allison Takeda.
Adding to the tension, according to Takeda, is the recent fallout between Diddy and Lopez's longtime manager Benny Medina.
Ultimately, the Dirty Money rapper "felt it was a 'her or me' situation," an insider told Takeda.
The Fox music competition show will welcome back Lopez and Keith Urban to the judging panel, and are still looking for a third judge.
Kanye West was reported to have turned down the judging gig because he felt it would tarnish his reputation.
OMFG Gossip is a part of Marble Media LLC's conglomerate of content-rich information distribution blogs offering tips, advice, encouragement and gossip on everything from fashion to health, marriage to tech consumer news and much more. For more information, visit the OMFGGossip.com website or email info(at)OMFGGossip(dot)com.
About Marble Media LLC:
Marble Media LLC is a creator of high-quality, content-rich blog sites that provide expansive coverage of relevant information to readers who make up a wide range of demographics.
The Marble Media LLC team of expert writers covers a wide range of specialties including travel, food, health, fitness, social media, marriage, parenting, technology, weight loss, fashion and much more. For more information on Marble Media LLC's offerings and advertising opportunities, visit the MarbleMediaLLC.com website, or email sales(at)marblemedia(dot)com.