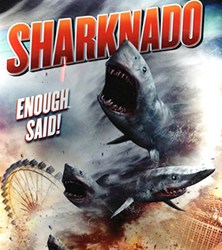 I'm not sure I'll ever be able to talk about anything non-Sharknado-related again.

FORT LEE, New Jersey (PRWEB) July 17, 2013
Almost a week after the premier of the highly anticipated SyFy flick "Sharknado", tweets continue to stream over the film that viewers define as an "instant masterpeice" within the realm of the SyFy cult genre. In the July 12 blog from Marble Media LLC's OMFGGossip.com titled "OMFG: A Sharknado Attacks the Twitterverse", guest blogger Liz Ernst offers readers a new take on the film that has everyone talking (and tweeting.)
According to Ernst, "Sharknado" has been embraced by its audience as the latest American catch-phrase to capture the attention of most, even those who haven't seen the film, thanks mainly to social media. During its premier airing on July 11, ratings giant Neilson reported more than 318,000 tweets logged just in the two hours it aired.
"SyFy Digital Senior Vice President Craig Engler reported that the hashtag #Sharknado appeared 387,000 times on Twitter on the night "Sharknado" premiered, reaching 5,000 tweets per minute at its peak," Ernst says.
SyFy, the science fiction channel that grew to become the go-to network for over-the-top sci-fi flicks like "Dinocroc Vs. Supergator", is known to have resurrected (sort of) the careers of some '80s pop stars such as Debbie Gibson and Tiffany.
"But when it comes to pure cheese, 'Sharknado' leaves its predecessors in the dust," Ernst says."The film is based on giant tornadoes that scoop huge volumes of water and sharks from the ocean and then dump the scary, squirmy, killer soup all over Los Angeles, where the sharks attack and kill people.
"What audiences are responding to is the fact that they really can't decide if it was meant to be parody or a serious horror film."
The SyFy Channel has a well-known history of producing man/shark/water/horror flicks, but many fans say "Sharknado" stands alone.
"The entire promo ad for the Syfy channel's latest campy, poorly produced, shamefully acted, and horribly written masterpiece," says Stacey Leasca of the LA Times In a July 12 article titled "'Sharknado': How Twitter turned it from campy to instant classic "Sharknado".
"Yes. Masterpiece. Because unlike the rest of Syfy's repertoire of painfully cheesy shark tales, this one had social media in a complete, well, feeding frenzy," Leasca says.
Whether or not the word "Sharknado" will become a permanent part of the American cult film vernacular is anyone's guess, but so far audiences appear unready to let go of it any time soon.
"LOST" creator Damon Lindel summed it up succinctly when he tweeted, "I know it's only been 12 hours, but I'm not sure I'll ever be able to talk about anything non-Sharknado-related again."
For anyone who missed it first time around, never fear; "Sharknado" will air again this Thursday.
OMFG Gossip is a part of Marble Media LLC's conglomerate of content-rich information distribution blogs offering tips, advice, encouragement and gossip on everything from fashion to health, marriage to tech consumer news and much more. For more information, visit the OMFGGossip.com website or Email info(at)OMFGGossip(dot)com.
About Marble Media LLC:
Marble Media LLC is a creator of high-quality, content-rich blog sites that provide expansive coverage of relevant information to readers who make up a wide range of demographics. The Marble Media LLC team of expert writers covers a wide range of specialties including travel, food, health, fitness, social media, marriage, parenting, technology, weight loss, fashion and much more. For more information on Marble Media LLC's offerings and advertising opportunities, visit the MarbleMediaLLC.com website, or Email sales(at)marblemedia(dot)com.
###