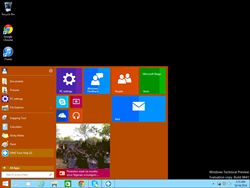 We not only fix customers' computers, but we try to educate them as well so that they can become self-sufficient in troubleshooting PC issues
Delray Beach, FL (PRWEB) October 14, 2014
OMG Tech Help was recently interviewed to see what their take is on the new Windows 10 operating system.
OMG Tech Help provides remote PC tech support across various product brands for individuals and small businesses in need of instant Windows-based PC assistance. The company takes pride in the fact that they employ specially trained Windows technicians in order to provide only the best in tech support services.
To get a head start on helping customers in need of technical support for Windows 10, JP Vasta, President of OMG Tech Help and OMG Total Protection has recruited a few OMG lead technicians to test out and review the Windows 10 technical preview and to give their feedback on any new and updated features.
Vasta believes that "in order to better serve our customers, it is very important for our technicians to learn every aspect, big or small about Windows OS, including the new Windows 10 before the operating system hits the mainstream public." He continued by adding that "our customers trust us to be knowledgeable in every aspect of Windows and Windows-based PCs. We not only fix our customers' computers, but we try to educate them as well so that they can become self-sufficient in troubleshooting PC issues and take good care of their computers."
James Turner, Lead Technician and Satellite Team Lead for OMG Tech Help was interviewed after he spent a few days with the new Windows 10 technical preview. Turner said that "the installation of Windows 10 is the exact same as Windows 8 and 8.1. Once the installation finishes, which generally takes less than 20 minutes, the user is ready to browse what Microsoft calls their brand new operating system."
Turner adds that "within the first 5 minutes of using Windows 10, you can tell that Microsoft has worked hard to fix what people were complaining about in Windows 8 and 8.1. The first major difference is that the start menu is similar to Windows 7, but with a twist." He continued to add that "on the right side of the start menu, you get access to all of the same Windows Store Apps that Windows 8 had, but you have more control over their size, which ones you can see, and control over the size of the start menu."
Turner says that Microsoft has given full control to the user in regards to the start menu, which no doubt is a result of quite a few users complaining that the start menu had disappeared from the last version. Microsoft seems to have really listened to the consumer and heard what they wanted out of their newest OS.
Another new feature in Windows 10, according to Turner is "Virtual Desktops". This is the ability to have multiple desktops without having to purchase multiple computers. Turner says that "you can still see what programs are open on another desktop by viewing a small bar underneath the icon of the program on the taskbar." This particular concept may be new to Microsoft, but it has been around with Mac OSx and Linux for a while now. Turner says that "Microsoft is playing the catch-up game, but they are doing it right by adding in some of the more technical features. Maybe Microsoft will lead the way with a revolutionary idea in Virtual Desktops."
He (Turner) summed up the interview by saying that "Microsoft is stepping it up in terms of fixing the flop they had when they released Windows 8 and 8.1. Over the next year, there will be a lot of updates and new changes to this new OS, so time will tell if Windows 10 will be a huge success or not."
To learn more about the Windows 10 technical preview, read further by clicking on the OMG Total Protection blog.