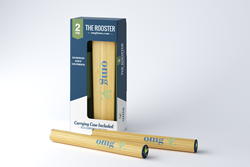 The most convenient way to enjoy Cannabis.
San Francisco, California (PRWEB) June 03, 2017
OMG Farms Cooperative, a lifestyle cannabis brand, has partnered with Sparc dispensary to launch its new disposable vape pen. The pen contains 500mg of ultra-premium cannabis oil and delivers 150+ three second activations. They are sold in 2 packs with a convenient carrying case. "We are bringing state-of-the-art technology to the Cannabis industry," explain CEO and Co-founder Aaron Silverman. "I truly believe this is the most convenient way to enjoy Cannabis."
Sparc, founded in 2001, has 2 locations in San Francisco. "Sparc is one of the most reputable dispensaries in California and has been a pioneer in the cannabis industry. Their product offerings are top notch and we are very proud to be part of their menu," proclaims Aaron. Products will be available starting May 31, 2017 to medical cannabis patients.
Sparc dispensary locations:
1256 Mission St.
San Francisco, CA. 94103
415-252-7727
473 Haight St.
San Francisco, CA 94117
415-805-1085
OMG Farms Contact
Aaron Silverman
925-785-0885
aaron(at)omgfarms(dot)com