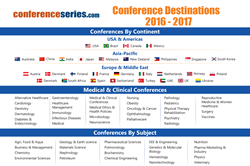 Meet inspiring speakers, experts and industry delegates at the OMICS Group conferences.
(PRWEB) September 02, 2016
OMICS Group, the leading open access publisher and the International Event Curator, along with its subsidiary, Conference Series, is gearing up for the year 2016-17 by hosting a medical conference series across global destinations, as this field is going to dominate the global medical and healthcare industry.
OMICS Group's medical conferences are aimed at giving a 360 degree review of recent advancements and challenges in various medical fields including Diabetes-Endocrinology, Nursing-Healthcare, Neuroscience, Immunology, Gastroenterology, Genetics & Molecular Biology, Pediatrics, Ophthalmology, Oncology-Cancer, Cardiology, Dentistry, Reproductive Medicine, Surgery and Radiology. Through a series of global events, OMICS Group is aiming to extend the lifespan of the global population by improving the quality of life.
Unique features of the medical conference series include:

Networking with experts in the field
Live streaming of international conferences
e-Poster for $49
Student travel grants
Student delegate registration for $99
Best poster and young researcher competitions
Career guidance workshops for graduates, doctors and post-doctoral fellows
OMICS Group's robust online publicity attracts 30 million readers to its library of proceedings and articles, bringing worldwide exposure to the speakers at the conferences.
The conference series on medical events will be headed towards great global destinations across the Americas, Europe, the Middle East, Asia Pacific and Africa in 2016-17.
The conference series offers Continuing Education (CE) and Continuing Medical Education (CME) credits in all disciplines of Medical, Dental and Nursing.
Dr Srinubabu Gedela, CEO of OMICS Group, said, "These scientific and healthcare conferences facilitate young researchers and scholars to interact with world-class experts in their respective fields, along with the chance to evaluate their research through the Young Research Forum, Best Poster Award competition and student fellowship—further encouraging student participation in scientific research and development."