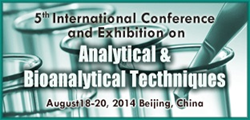 Los Angeles, CA (PRWEB) July 10, 2014
OMICS Group's 5th International conference and exhibition on Analytical and Bioanalytical techniques during August 18-20, 2014 at Double Tree by Hilton Beijing, China is all set to critically review the recent developments in Analytical & Bioanalytical research methods only to facilitate improved living standards across the globe.
Speaking on this occasion, Dr. Srinubabu Gedela, MD of OMICS Group Inc has observed that Analytica Acta conference is a remarkable one in bringing a unique and international mix of large and medium pharmaceutical, biotech and diagnostic companies, leading universities and research institutions together and making the conference a perfect platform to share experience, foster collaborations across industry and academia, and evaluate emerging technologies across the globe. This scientific meeting aims to serve as a catalyst for the advancement in Analytical & Bioanalytical sciences by connecting scientists within and across disciplines at conferences held under a single roof that creates an environment conducive to information exchange, generation of new ideas and acceleration of applications that benefit society.
Many eminent personalities from several top Universities and Companies along with the speakers from all over the world are going to join their peers at Analytica Acta- 2014, which includes CEOs and business people from companies like Bruker BioSpin GmbH, Merck Millipore, Abbott Nutrition R&D, Biogen Idec, Pharmaterials, Ltd, A PII Company, Fluorotronics USA, Inc., and Mintek.
Some of the prominent speakers that are going to share their expertise at this International Pharma Conference include Eduard Rogatsky, Albert Einstein College of Medicine, USA; Yuewu Xiao, Merck Millipore, USA; Farid Menaa, Fluorotronics Inc., USA; Jianping Wu, Pharmaterials, Ltd, A PII Company, UK; Qi Lin, Abbott Nutrition R&D, Singapore; Sergei Shtykov, Saratov State University, Russia; Michael Zhou, Director of Bioanalytical PR&D, Forest Laboratories, Inc., USA; Ming Li, Biogen Idec, USA; Wenxin (Shirley) Xu, Bruker BioSpin GmbH, China; Makhapa Makhafola, Mintek, South Africa; Wayne G. Carter, University of Nottingham, UK; Edward Lai, Carleton University, Canada; Erkang Wang, Chinese Academy of Sciences, China; Yuri A. Zolotov, Lomonosov Moscow University, Russia; Andrew Benniston, Newcastle University, UK; Huangxian Ju, Nanjing University, China; Hiroshi Uyama, Osaka University, Japan; Yoon-Bo Shim, Pusan National University, S. Korea; Doo Soo Chung, Seoul National University, South Korea; Susanne P Boyle, The University of Manchester, UK; Markus Link, Bruker BioSpin GmbH, Germany; L. A. Frank, Siberian Branch of the Russian Academy of Sciences, Russia; Sebania Libertino, Istituto per la Microelettronica e Microsistemi (CNR-IMM), Italy and Seung-Woo Lee, The University of Kitakyushu, Japan.
Analytica Acta- 2014 is going to discuss various important aspects of this field like Novel Approaches to Analytical and Bioanalytical Methods, Analytical Methodology, Bioanalytical Methodology, Analytical Techniques in Pharmacogenomics, NMR & Analysis of Small Organic Molecules, Advances in Chromatography and Mass Spectrometry, Analytical Techniques in Immune Chemistry, Environmental Analytical Aspects, Applications of Analytical and Bioanalytical Methods, Diagnostic Assays and Test Kits, New Instrumentation and Equipment, and Regulatory Issues and Biosafety Challenges in Bioanalysis.
For more details on Analytica Acta-2014 conference, please visit: http://www.pharmaceuticalconferences.com/analytical-bioanalytical-techniques-2014/.
While Lambda Therapeutic Research Ltd., India/UK is sponsoring Analytica Acta-2014, International Federation of Clinical Chemistry and Laboratory Medicine (IFCC), Hellenic Society of Medicinal Chemistry, (Russian) Scientific Council on Analytical Chemistry, The Chromatographic Society (CSI) of India are collaborating with OMICS Group in organising this event. OMICS Group is known for conducting International Workshops. Dr. Edward Lai from Carleton University, Canada is conducting a Symposium on "New methods for trace analysis of nanomaterials in water."
For the Tentative Program of the conference, please click here.
For further details contact
Jessie Webb
Analytica Acta-2014 Organizing Committee
Pharmaceutical Conferences
5716 Corsa Ave, Suite110
Westlake, Los Angeles
CA-91362-7354, USA
Phone: +1-888-843-8169
Toll No +1-800-216-6499
E-mail: analytica2014(at)omicsgroup(dot)us / analytica2014(at)omicsonline(dot)us